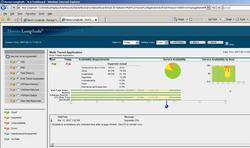 Time will tell if this is a turning point in the economic crisis for IT, but we're starting to see companies move beyond simple cost cutting to look at how they can be more effective and save money over the long term
Braintree, MA (PRWEB) July 28, 2009
Heroix, a leading provider of application performance and network monitoring software, today announced double-digit quarter-to-quarter growth in sales of its flagship Longitude software, bolstered by wins in healthcare organizations. License sales grew over 50%, new customer acquisitions rose by more than 25% over Q1 and average selling price increased. Customer retention remained strong at more than 90% through the first half of the year. Longitude helps IT organizations improve service levels and enhance business performance through reporting, alerting, automated correction, and SLA monitoring for applications, servers, IT infrastructure, networks, and SNMP devices.
"Time will tell if this is a turning point in the economic crisis for IT, but we're starting to see companies move beyond simple cost cutting to look at how they can be more effective and save money over the long term," said Heroix President Rick Lane. Longitude helps constrained IT departments do more with less by allowing them to reduce expenses without sacrificing service levels for mission critical applications. Pressures to increase efficiency are particularly strong in healthcare as providers seek ways to contain skyrocketing medical costs.
Also in Q2, Longitude was nominated for the 2009 Mass Technology Leadership Awards, which spotlight the companies, people, and technologies that exemplify the best and the brightest in the Massachusetts technology community, and MITX Technology Awards, recognizing innovative technology developed in New England. Key wins in healthcare complemented customer activity in law enforcement, IT services, and real estate.
Longitude offers a unique combination of broad monitoring coverage and enterprise-class capabilities at prices affordable to small and mid-sized companies. Longitude Standard Edition provides effective, easy-to-use operating system and IT infrastructure monitoring capabilities affordable for small to medium businesses. Longitude Professional Edition provides feature-rich operating system and IT infrastructure monitoring with advanced application monitoring and event handling. The company's top-of-the line Enterprise Edition delivers operating system, IT infrastructure, and application monitoring software with SLA monitoring, end user experience monitoring, and other advanced features that facilitate the monitoring and management of large enterprises.
Pricing and Availability:
Longitude is available now, and Heroix offers a 14-day free trial of Longitude. Please visit the Heroix web site or call 800-229-6500 or 781-848-1701 for Longitude pricing. Heroix also provides performance monitoring tips from life in the IT trenches on its Heroix Longitude IT monitoring blog.
About Heroix:
Heroix delivers award-winning application performance and network monitoring software products that help organizations optimize the availability and performance of applications, databases, systems, and IT infrastructure running across multiple platforms. Today, with a presence in over 40 countries, Heroix has delivered performance management solutions to more than 1,000 organizations worldwide, including Fallon Clinic, Kaiser Permanente, Honeywell, Tembec, Motorola, Inc., and Young Broadcasting.
Contact:
Mary Masi-Phelps
Heroix
781-848-1701 x231
http://www.heroix.com
###