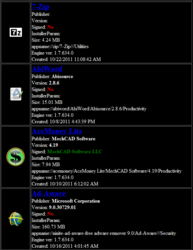 An incredibly low TCO and maintenance cost for IT
(PRWEB) October 28, 2011
Cameyo has today announced that it is working on an application streaming capability, which is to be released during Q1 2012. The application virtualization provider has announced that this capability will be entirely cloud based, as opposed to other solutions that exist today.
Application streaming:
Application streaming is an important component of application virtualization solutions. It allows using applications from local networks or the Internet with minimal startup time, while buffering the rest of the application. Much like video streaming, application streaming is meant to accelerate provisioning to the user.
Cameyo's cloud approach:
As for the rest of its products, Cameyo leverages cloud computing. While other solutions on the market require IT administrators to learn, install, maintain and backup application streaming servers, Cameyo has chosen a different angle. Cameyo's streaming will separate the actual application's files from its streaming information. The application streaming server, in charge of streaming optimization and information, is to be hosted in Cameyo's cloud, backed by the Windows Azure cloud infrastructure. Administrators will be able to provision applications right from their network shares or Web servers, while the flow of information & optimization will be managed by Cameyo's cloud platform. This approach provides the best of the two worlds: flexible as to where to stream applications from, yet "fire-and-forget" because no servers need to be installed within the organization in order to manage the streaming intelligence, database and information. In other words, an incredibly low TCO and maintenance cost for IT.
Cameyo expects the solution to get into Beta as early as Q4 2011, with general availability planned for Q1 2012.
About Cameyo:
Cameyo delivers application virtualization solutions. Its flagship product Cameyo Application Virtualization is the first in a series of virtualization products. The company currently develops breakthrough technologies that leverage virtualization in new ways.
Cameyo's vision is about making Windows applications mobile and easy to try, use and remove.
Video presentation of Cameyo is available here.
Windows Azure is a registered trademark of Microsoft Inc, which has no affiliation with Cameyo.
###