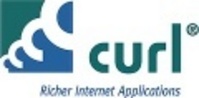 We are honored that InfoWorld has chosen Curl as the Technology of the Year in the Rich Internet Application category
CAMBRIDGE, Mass. (PRWEB) January 7, 2008
Curl is among 49 winners, in nine general categories, of the 2008 Technology of the Year Awards selected by InfoWorld's Test Center editors and reviewers from more than 200 products tested during 2007. Curl is featured online in the January 7, 2008 issue of the publication.
In InfoWorld's review of the Curl platform, author Martin Heller writes, "Curl 5.0, available in both a Personal and Pro edition, is now positioned as an industrial-strength RIA platform: It has all the good attributes of RIAs -- Web-enabled, lightweight, and a rich interface -- plus additional characteristics that make it suitable for enterprise use. Curl applications can handle intermittent connectivity, support large data sets, run securely, and present complex user interfaces gracefully."
Heller continues, "Curl may well be the most interesting computer language that you don't already know. Given that you can use the personal tools free forever and deploy the results on the Internet for free, the only barrier to evaluating it would be finding the time, and you may be pleasantly surprised at how quickly you pick it up. If you get serious about Curl and need to evaluate the professional tools and runtime, you can download a free 60-day trial. Curl should certainly be an option to consider for your next RIA project."
With Curl, developers can implement a new class of enterprise-grade, complex Web-based applications that cannot easily be developed with other RIA technologies. Additionally, corporations with legacy client-server applications can move to Web-based delivery, increasing reach and reducing cost.
Curl recently announced Version 6.0 of its RIA platform which includes a Skinning Package, Advanced Rendering APIs, AJAX Interoperability Features, and Server Interoperability Features.
In addition to the new features in Version 6.0, the company also released a significant body of code to the open source community in late 2007. As part of its first step to support open source technology initiatives, Curl has established three open source projects, which include a Web Services Development Kit (WSDK), Curl Data Kit (CDK), Curl Development Utilities (CDU).
"We are honored that InfoWorld has chosen Curl as the Technology of the Year in the Rich Internet Application category," said Jnan Dash, Chief Strategy Officer, Curl, Inc. "This validates Curl as the best platform to build enterprise-scale RIA for ISV's and Fortune 1000 companies looking to build new Web 2.0 applications or switch from existing client-server architecture to Web 2.0 technology."
Multimedia: Curltech flickr page, Curltech photobucket page
Technorati Tags: Curl, RIA, Rich Internet Application, Enterprise 2.0
Suggested Links: Digg, Curl, Inc.'s Del.icio.us page, Post to Slashdot
About Curl, Inc.
Curl provides a Rich Internet Application platform for building and deploying Web-based applications that demand complex, highly interactive interfaces previously only possible as client-server applications. Using Curl, developers can implement a new class of complex, business-critical, Web-based applications that cannot easily be developed with Ajax or other smart client technologies. Curl allows corporations with legacy client-server applications to move to Web-based delivery, increasing reach and reducing cost. Founded in 1998, Curl is headquartered in Cambridge, Massachusetts and is a wholly owned subsidiary of Sumisho Computer Systems. Curl has over 300 customers and 40 partners world-wide. For more information visit http://www.curl.com.
About InfoWorld Media Group
InfoWorld Media Group helps IT Decision Makers choose the right technology, within the context of a cohesive strategy for business impact at their organizations. InfoWorld identifies and promotes emerging technology segments that add unique value for the organizations that implement them, as well as the vendors that provide those solutions. Using an integrated communications approach including online, events, research, and a continued investment in an independent Test Center, InfoWorld analysts and editors provide hands-on analysis and evaluation, as well as expert commentary on issues surrounding emerging technologies and products. Visit InfoWorld at http://www.infoworld.com.
About International Data Group
International Data Group (IDG) is the world's leading technology media, events, and research company. IDG's online network includes more than 450 web sites spanning business technology, consumer technology, digital entertainment and video games worldwide. IDG also publishes more than 300 magazines and newspapers in 85 countries. IDG's media brands include CIO, CSO, Computerworld, GamePro, InfoWorld, Macworld, Network World, and PC World. IDG's lead-generation service, IDG Connect, matches technology companies with an audience of engaged, high-quality IT professionals, influencers, and decision makers.
IDG is a leading producer of more than 750 technology-related events including Macworld Conference & Expo, LinuxWorld Conference & Expo, Entertainment for All Expo (E for All), DEMO, Storage Networking World, and IDC Directions. IDC, a subsidiary of IDG, is the premier global provider of market intelligence, advisory services, and events. Over 900 IDC analysts in more than 90 countries provide global, regional, and local expertise on technology and industry opportunities and trends.
Additional information about IDG, a privately held company, is available at http://www.idg.com.