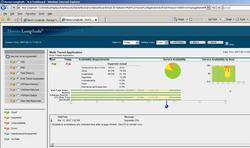 With Longitude V6.2, we've made it easier than ever for IT organizations to cut through overwhelming volumes of IT performance and event data, and focus on what matters to their critical business processes.
Braintree, Mass. (PRWEB) March 17, 2010
Heroix, a leading provider of agentless application performance and network monitoring software, today announced general availability of Longitude V6.2, the latest update of its flagship agentless IT monitoring software. Designed to help IT organizations maximize business service levels, Longitude integrates disparate views of the IT infrastructure to provide a cohesive picture of IT service delivery and Service Level Agreement (SLA) compliance.
"With Longitude V6.2, we've made it easier than ever for IT organizations to cut through overwhelming volumes of IT performance and event data, and focus on what matters to their critical business processes. Longitude's Service Level Agreement dashboards and reports provide superior visibility into application health and allow IT personnel to interpret the business impact of performance degradations, resolve issues faster, and demonstrate IT's accountability and transparency," said Heroix President Rick Lane.
New and enhanced features in Longitude V6.2 include:

Automatic creation of Service Level Agreements and Statistics Dashboards
64-bit Management Station and Agent installations on Windows 2003 & 2008
SQL Server 2008 monitoring
Improvements to the overall user experience with easier UI navigation, scalability enhancements and other refinements
Direct links to the Heroix Longitude Community Site, where users can view helpful Longitude tutorial videos, search the online Longitude knowledge base, and participate in peer support through Longitude user forums.
Package Details
Longitude features an agentless architecture that enables comprehensive application performance and network monitoring and reporting, without the expense, complexity, system overhead, and management headaches that go with running agents on every server. Longitude is available in three packages:
Longitude Standard Edition offers the following free for up to 25 managed devices:
Operating system and infrastructure monitoring for Windows®, Linux®, and Unix® servers
Cisco® device monitoring
VMware® monitoring
Real-time Event Monitor
Statistics dashboard and interactive reporting
Email alerts
Corrective action capabilities
Out of the box Service Level Agreement (SLA) monitoring, including real time dashboards and reports
Longitude Professional Edition covers up to 5 devices in the free version. Professional Edition provides all the capabilities of Standard Edition, plus application monitoring of:
Microsoft IIS
Apache™ Web Server
Microsoft® SQL Server
Oracle®
MySQL™
Microsoft Exchange Server
DHCP
Active Directory®
Dell OpenManage™
HP Systems Insight Manager
IBM® Director
Also included are alert and action schedules, event escalation, and data export
Longitude Enterprise provides all the capabilities of Professional Edition, plus:
Enterprise command & control, including role-based security
Fully customizable Service Level Agreement monitoring
Enterprise reporting, including scheduled reports, annotations, and an archived report portal
Fully customizable event correlation
Fully customizable event monitor with topology views
User experience monitoring using synthetic web transactions
Integration with enterprise consoles using SNMP traps
More Resources
Compare features and download Heroix Longitude
Watch Longitude Quick Tour (5-minute video)
About Heroix
Heroix (http://www.heroix.com) delivers award-winning software products that help organizations optimize the availability and performance of applications, databases, systems, and IT infrastructure running across multiple platforms. Today, with a presence in over 40 countries, Heroix has delivered performance management solutions to over 1,000 organizations worldwide, including Fallon Clinic, Kaiser Permanente, Honeywell, Tembec, Motorola, Inc., and Young Broadcasting.
Heroix, Longitude, and their corresponding logos are registered trademarks of Heroix. All other company and product names mentioned are used only for identification purposes and may be trademarks or registered trademarks of their respective companies.
###