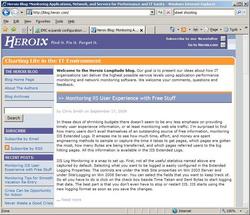 Chris brings a wealth of practical experience from helping customers solve application performance monitoring problems every day in the trenches
Braintree, MA (PRWEB) September 22, 2009
Heroix, a leading provider of agentless application performance and network monitoring software, is pleased to announce that Chris Smith, Heroix Senior Systems Engineer and IT veteran, will be contributing regularly to the Heroix performance monitoring blog. Smith is an 8 year Heroix veteran with extensive experience in consulting, implementation, customization, and training, with a focus on open systems.
Based in Herndon, VA, Smith holds a B.S. in Decision Science and Management Information Systems from George Mason University, and has spent 15 years in performance evaluation and capacity planning, including extensive work as a field engineer at commercial, government and military sites in the US and Europe, as well as numerous speaking engagements at industry seminars and conferences. In his free time, Smith puts his talents and expertise to work for his community as an IT volunteer in Fairfax County nursing homes, and enjoys a variety of outdoor sports and activities.
"Chris brings a wealth of practical experience from helping customers solve application performance monitoring problems every day in the trenches," said Heroix President Rick Lane. "Heroix prides itself on providing superior customer service and practical performance monitoring solutions, and we look forward to expanding our service in an online forum."
Smith's offerings will focus on solving specific monitoring problems using a combination of free and open source techniques as well as Heroix's flagship Longitude software for application performance and network monitoring. Longitude takes an agentless approach to performance monitoring, management reporting, alerting, automated corrective action, SLA monitoring and user experience monitoring for applications, servers, IT infrastructure, networks, and SNMP devices. Agentless software works without the need to install software on the systems being monitored. As a result, Longitude is able to improve IT service delivery without depleting server resources. It also takes minimal time to install and deploy, saving time for IT staff, and is less expensive to license than agent-based products.
Heroix provides Longitude monitoring software versions packaged and priced to meet the needs of all size businesses. Longitude Standard Edition provides effective, easy-to-use operating system and IT infrastructure monitoring capabilities affordable for small to medium businesses. Longitude Professional Edition provides feature-rich operating system and IT infrastructure monitoring with advanced application monitoring and event handling. The company's top-of-the line Enterprise Edition delivers operating system, IT infrastructure, and application monitoring software with SLA monitoring, end user experience monitoring, and other advanced features that facilitate the monitoring and management of large enterprises.
About Heroix
Heroix delivers award-winning software products that help organizations optimize the availability and performance of applications, databases, systems, and IT infrastructure running across multiple platforms. Today, with a presence in over 40 countries, Heroix has delivered performance management solutions to over 1,000 organizations worldwide, including Fallon Clinic, Kaiser Permanente, Honeywell, Tembec, Motorola, Inc., and Young Broadcasting.
###