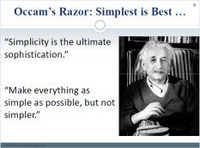 Complex problems require simple solutions
Trenton, NJ (Vocus) April 6, 2010
John Verry, Principal Consultant at Pivot Point Security, has released a new on-demand webinar entitled: Leveraging OWASP to Reduce Web App Security Data Breach Risk. Designed to educate on Application Security, the webinar addresses technical issues in business terms.
"Complex problems require simple solutions," says John Verry, Principal Consultant at Pivot Point Security (Hamilton, NJ). This statement forms the basis of a practical, valuable On-Demand Webinar discussing the problems of data breaches via web-based applications: Leveraging OWASP to Reduce Web App Security Data Breach Risk. While addressing technical issues, Verry also relates to the business implications - making this on-demand webinar accessible to business leaders as well as technical resources. "We focus on a 'Simplest is Best' approach," says Verry, and he supports his argument with pithy quotes from Lao-Tzu, DaVinci and Einstein, applying time-tested principles to the world of application security. "This is why I am a big fan of OWASP - the Open Web Application Security Project."
"OWASP," says Verry, "helps define the risks inherent in application security and provides a framework for addressing and then mitigating those risks. Faced with new risks emerging every day in the world of application security, Verry emphasizes the need for a top-down approach. "Managing risk in applications starts at the 'top' and propagates throughout the organization," he said. "We need to evolve beyond 'firefighting' and change the way we respond to threats."
"Leveraging OWASP can simplify the application security process with cost-saving and time-reducing strategies," says Verry. "We've found a major problem with application security is establishing - and then enforcing - a policy." This is where OWASP provides sound guidance. Starting with SAMM (Software Assurance Maturity Model) and its twelve core processes, Verry walks the listener through a best-practices approach. He also cites the OWASP Top Ten and ASVS (Application Security Verification Standard) as critical tools.
This brief, on-demand webinar concludes with a practical list of First Steps to help any organization understand - and improve - their risk management strategies. To view it, visit Leveraging OWASP
Pivot Point Security helps organizations manage information related risk by building trust in the processes, systems, partners, people, and applications that process critical organizational information. We build this trust by:

Offering a focused group of highly inter-related and complementary service offerings that can be leveraged independently, but also work together synergistically to provide a more comprehensive and scalable level of assurance;
Intelligently leveraging technology and statistical analysis to maximize the value of our service offerings while controlling cost;
Utilizing an adaptive framework that allows us to adjust our methodology and the extent and rigor of our activities to precisely achieve each client's objectives; and,
Emphasizing a collaborative "win-win" and knowledge transfer centric approach.
###