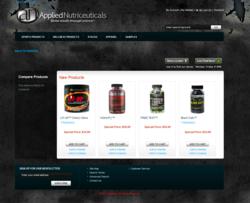 Our new website is miles ahead of where we were with our last website. We offer so many more interactive features...
Charlotte, NC (PRWEB) July 26, 2011
Applied Nutriceuticals, a dietary supplement company that targets fitness and health conscious individuals, launched its new website last week. Applied Nutriceuticals created a website with an edgier design and easier navigation features for clients.
Alyson Tagliaferri, the Marketing Director at Applied Nutriceuticals stated, "Our new website is miles ahead of where we were with our last website. We offer so many more interactive features, including a store locator for both customers and distributors, an international map, and LiveChat. In addition, we also have a completely upgraded store that includes the capability to compare products, save your shopping cart, and search for the name or feature of any product."
The LiveChat feature is available to customers Monday through Friday, 9 a.m. to 5 p.m. Clients can use this feature to ask questions concerning products, events, or other matters related to sports nutrition.
The new "Athletes" section provides an application to become an official AppNut athlete. Applied Nutriceuticals plans to add new fitness athletes more often and encourages aspiring bodybuilders, powerlifters, and other fitness enthusiasts to apply for membership.
Once a person is selected as an official AppNut athlete, they receive a profile with pictures featured on the website, $100 in products upon signing, a designer AppNut t-shirt, a gym essentials kit including a shaker bottle, pill box, and string bag, exclusive deals on all AppNut products, potential features in upcoming Applied Nutriceuticals ads, promotional materials and testimonials, and samples of the newest AppNut products.
With the new website, interactive maps are accessible to customers looking for the closest distributor of Applied Nutriceuticals wellness products. By clicking on the "Contact" tab, customers will find an interactive map pinpointing the exact location of a distributor.
There is also a store locater key in the upper right hand corner of the website; this will take customers to the Applied Nutriceuticals Facebook page, where they can type in their zip code and find the closest available retailers.
Distributers outside of the U.S. can be found on the interactive map under the "Retailers" tab. International distributors include locations in Europe, South Africa, India, and Australia. U.S. based retailers of Applied Nutriceuticals' products include: GNC, The Vitamin Shoppe, and PlanetaryNutrition.com; however, all products are available to order on http://www.appnut.com.
For the rest of July, the company will offer a free AppNut Cinch Bag with every order using the coupon code ANBAG711. Customers can also follow news and updates on company products and events on Twitter @AppNut.
About Applied Nutriceuticals:
Applied Nutriceuticals' mission is to develop, manufacture, and market high-performance nutritional supplements that deliver safe, consistent, and measurable results to its customers. Every product from Applied Nutriceuticals is made in its state-of-the-art cGMP facility, tested by its own chemist and formulator, and packaged and shipped from the warehouse in Charlotte, NC.
Contact:
Don Orrell
704-509-5999
info(at)appliednutriceuticals(dot)com
###