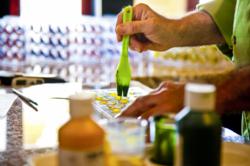 Who better than chocolate artisans know how to create delightful experiences that appeal to all senses?
Thousand Oaks, CA (PRWEB) May 09, 2013
RKS' design team visited the workshop of Los-Angeles based chocolatier Mark Lewis to collect insights on how the Marco Paolo artisan truffles deliver magical experiences that delight the user.
Design guru Ravi Sawhney has worked with Mark for years and his firm, RKS, developed the branding and packaging for his delicious creations. "Mark found the use of our proprietary design methodology, Psycho-Aesthetics®, to be eye-opening in terms of understanding the market and thinking about his craft as business," Ravi says. "And we soon realized that we had a lot to learn from him as well. Think about it: who better than chocolate artisans know how to create delightful experiences that appeal to all senses?"
Making each piece a unique creation
Marco Paolo truffles are artisanal, and all hand-painted by Mark. "People love that when they open the box, every chocolate looks different. Each one of them is unique and painted with its own pattern; there aren't two similar ones." Loyal fans of Mark's chocolates have been heard comparing them to jewels, because of the craft involved and the originality of each creation.
Finding the flow
"Observing Mark working in his shared cooking space was very interesting," reported RKS Designer Ben Hickman. "While painting the molds he entered a kind of trance. He was extremely focused, meditative even. It took him several times to realize I was talking to him."
Mark prepares his truffles in a state-of-the-art space in Pasadena where he works in a quiet, focused atmosphere. "You have to be passionate about what you do," Mark says. "If I don't like the taste of a new recipe, I don't move forward with it." The chef also set himself strict constraints that channel his creativity, such as the use of pure and natural ingredients.
Embarking the consumer on a sensory journey
Chocolate artisans are also masters at creating an experiential journey for the consumer. Marco Paolo chocolates are designed to make the experience start at the shopping stage. Each truffle is painted with colored cacao butter that matches the color of the ingredients inside, which is a real teaser for the shopper. "Seeing the dark green color on the Lemon Basil Kiss prepares you to taste a very herbal flavor, the basil. And the yellow stripe makes your taste buds anticipate the flavor explosion of the lemon," the chef explains. Whether in store or shopping on the website, the consumer has embarked on a journey before even making the purchase. The experience gets richer when opening the chocolate box as the aroma kicks in. The culmination of the journey is the first bite, with the surprise of the discovery followed by the pleasure of the tasting. "We build flavor profiles like perfumes or wines; we design the precise sequence in which the flavors unfold." Each truffle provides an initial flavor experience – a harmony of notes – that then excites a string of flavor notes, culminating in a lingering finish that provides a truly rewarding sensory adventure.
Enhancing existing rituals
"Most people take a bite of chocolate, chew, and soon swallow, but have they really tasted the chocolate?"questions Mark. He recommends touching the surface of the chocolate to discover how it feels, and only then taking a first top-to-bottom bite to sample both layers simultaneously, listening to the sound of the bite. One should then allow it to melt in the mouth to experience the full bouquet. "You have to understand what kind of rituals people have, and augment them" says Ravi Sawhney. "That's the only way to advance people toward what they aspire to, and create meaningful and fulfilling experiences."
Delivering on the promise
The magic of the Marco Paolo Chocolates experience lies on the surprising yet delicious combination of two flavors like Pineapple & Burnt Caramel, Pomegranate & Aged Balsamic, Tamarind Tea & Green Cardamom, to name only a few. "Getting those flavors to come through is the crucial part when developing a new recipe," says Mark. He tests his new recipes on real people, not on fellow chefs, and only works with flavors that every palate can detect. For example, the Guanabana based ganache he developed never made it into the final recipe of his truffle, because the flavor was too mild to be tasted.
"The beauty of Marks's chocolates is that you have two ingredients listed on the label, two colors on the truffles, and then you eat, two flavors combining in your mouth," Ravi comments. "They take the consumer into a journey and deliver an experience that matches the promise, every time. That's what us designers call a moment of truth. The person is transported and feels the urge of sharing her experience with others: he will bring a box of truffles to degust with wine and coffee next time a friend have him over for dinner."
Dear Writer, Are you ready to embark on your own hero's journey?
Download the story PDF here and request a sample of Marco Paolo chocolates now.
About RKS
RKS Design, Inc. is an innovation consulting firm delivering human-focused solutions with global impact. Founded in 1980, RKS utilizes design as a strategic tool advancing clients' ability to focus on people's needs and aspirations while creating sustainable business results and benefits to society. Working domestically and globally and having won over 150 major design awards, RKS credits Maslow and Campbell's work as the foundation for its systematic and pragmatic set of frameworks, setting the stage for the creation of experiences that motivate and reward audiences. Read more at http://www.rksdesign.com.
About Marco Paolo Chocolates
Marco Paolo Chocolates, LLC, is a LA-based company founded in 2010 by chocolate expert Mark Lewis. The ten specialty truffles are hand-made by Mark and available for sales on the online store at http://marcopaolochocolates.com/. Marco Paolo was recently honored with four gold medals at San Francisco Chocolate Salon, including "Most Delicious Ingredient Combinations" the People's Choice Awards for "Best Confection," "Most Luxuriant Experience," and "Best Presentation."