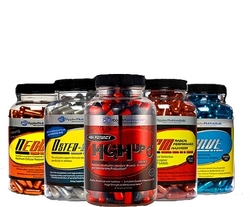 "Being nominated for a Bodybuilding.com Supplement Award is quite an accomplishment!" Ryan DeLuca, CEO of Bodybuilding.com
Charlotte, NC (PRWEB) July 29, 2010
Bodybuilding.com has announced their 2010 Supplement Award nominees, recognizing industry leaders delivering high-quality, effective products. Over 80 brands were nominated in all and Applied Nutriceuticals is up for three awards in the following categories:
Breakout Brand Of The Year
Best New Product – HGH UP
Best Muscle Builder – HGH UP
Bodybuilding.com Supplement Awards nominations are based on the top-selling products in each award category, selected from the 10,000+ products Bodybuilding.com carries. When customers purchased a product from Bodybuilding.com this past year, they voted (with their wallet) for that product's nomination.
"Being nominated for a Bodybuilding.com Supplement Award is quite an accomplishment! Since it's the public who chooses the final winners, winning this award positions a company to be one of the most trust-worthy out there. We also see award winners naturally rise to the top of our best-sellers list," explains Ryan DeLuca, CEO of Bodybuilding.com.
Winners will be decided on by customer vote via an online voting system running now through August 15, 2010 on Bodybuilding.com. The final winners will be announced live on the 2010 Mr. Olympia Expo stage on September 25, 2010 in Las Vegas, Nevada.
Vote NOW for Applied Nutriceuticals at http://www.bodybuilding.com/fun/supplementawardpage.htm
You can also visit Applied Nutriceuticals on Facebook at http://www.facebook.com/pages/Applied-Nutriceuticals/64122223218?ref=ts and on Twitter at http://twitter.com/AppNut
Bodybuilding.com offers more than 10,000 health and fitness supplements & accessories to help people achieve their fitness goals. They offer more than 25,000 pages of FREE bodybuilding and fitness information, including more than 12,000 articles (written by 525+ writers), video & audio segments, and new content added daily.
# # #