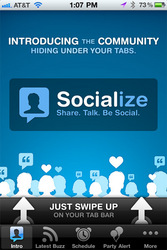 It's as if we're turning the lights on in a room full of people who have never been able to communicate before!
San Francisco, CA (PRWEB) March 14, 2011
AppMakr, the industry's leading do-it-yourself mobile app creation platform, today unveiled a major upgrade to its platform. The new version's flagship feature, Socialize, enables everyone—from the technically savvy developer to the average Joe—to create mobile experiences with the power of social networks to engage, enrich and inspire users to interact with brands, and other users, at no charge.
Available today, Socialize adds a social layer to any app created with the AppMakr platform, allowing users to share, like, comment and view other members' activities for richer and more dynamic social-based experiences. More than 50 AppMakr customers have already built apps powered by the new Socialize feature and will debut them over the course of the next few days.
Smartphone adoption continues to skyrocket. Analyst firm IDC predicts that mobile content consumers will purchase more than 25 billion mobile apps this year alone. For companies, individuals and organizations that wish to engage mobile consumers and fans, it is imperative to create rich experiences that add value to the mobile experience while cutting through the data overload and noise from a shifting social world. Until today's release of Socialize, the ability to meet that demand was not possible.
"It's as if we're turning the lights on in a room full of people who have never been able to communicate before," said Daniel R. Odio, CEO of AppMakr. "Interest-based communities will form around the core content of the app, and this will deepen engagement levels and solve discoverability issues in mobile. Facebook figured out how to leverage the social graph, and now with Socialize we've cracked the code on the interest graph."
The new version of AppMakr, featuring Socialize:

Builds on the AppMakr tradition of do-it-yourself app creation—the simple, easy-to-use interface allows everyone to create rich and compelling mobile experiences.
Adds an extra social layer, easily activated—within the AppMakr platform, app creators will only need to flick Socialize on to rebuild their existing apps with the new feature.
Promotes discoverability and consumer engagement within the app—users can like, share and comment on in-app content such as articles, blog posts, images, audio and video.
Feedback and reporting for perpetual improvement—app creators receive analysis, user feedback and reporting so they can consistently improve their apps and can further engage users.
AppMakr's partner and developer community is very excited about the new features offered in the latest version. AppMakr invited many of its community members to participate in the beta process, and the feedback has been staggeringly positive.
"PBS NewsHour has long been a fan of AppMakr's app creation platform. We created a best-in-class iPhone app at zero cost using AppMakr," said Travis Daub, creative director of PBS NewsHour. "The addition of the Socialize social layer means the PBS NewsHour community will start interacting with each other in significant new ways, dramatically increasing app engagement and usage. We have wanted to tap into the app community for a very long time, and now Socialize lets us do it. We are continually impressed by AppMakr's innovation in the mobile space and we look forward to releasing the PBS NewsHour app with the Socialize social layer."
Socialize is now available for iPhone apps made with AppMakr. To experience Socialize in action, download AppMakr's unofficial SXSW 2011 app— your guide to all the action in Austin. App creators can also implement Socialize on their own AppMakr apps at http://www.appmakr.com.
###