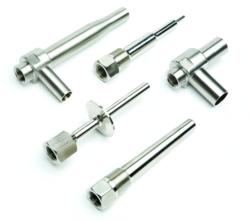 You can extend sensor life and improve temperature measurements with thermowells tailored to the application.
Minnetonka, MN (PRWEB) May 31, 2012
This Technical Compendium of application notes from Burns Engineering presents insights and application information related to variations in the design and style of the Thermowell as a critical interface between the temperature sensor and the system or process. Learn about various approaches to creating thermowell solutions to increase sensor life and measurement confidence.
Burns also offers other Applications Notes describing temperature measurement applications and challenges and how they can be solved. Visit BurnsEngineering.com to access these Application Notes for FREE.
ABOUT BURNS ENGINEERING:
Since 1960, Burns Engineering has been an industry leader in the design and manufacture of temperature measurement products for the Process, OEM and Metrology industries. Products include RTDs, Secondary SPRTs, Thermocouples, Thermowells, Transmitters and NVLAP® Accredited Calibrations (Lab Code 200706-0). Learn more about Burns Engineering at http://www.burnsengineering.com or contact directly at 800-328-3871.