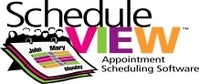 "Customers now get the best of both worlds; the functionality and reporting features of our popular desktop application and the ease and accessibility of online appointment software."
Fort Myers, FL (PRWEB) June 13, 2010
Appointment scheduling software users now get to enjoy the benefits of both a powerful, easy to use robust desktop application with advanced reporting features, along with the easy and convenience of publishing to the web to allow staff and customers, clients, or patients to view or request appointments online.
This combination of a powerful desktop application and a web interface combine for a very powerful and complete desktop and online appointment scheduling software solution. You and your staff can view appointments and schedules anywhere you can access the web, while at the same time, harnessing the powerful reporting features that can help make your office more productive and profitable.
Harry Selent, President of Scheduleview.com says "our clients told us they really love the robust features and ease of use of our desktop appointment management software program, but really wanted to be able to view schedules from home or on the road, or allow their clientscustomers to request appointments online to help reduce staff hours involved in handling appointment phone calls. Our clients also told us their customers like the ability to make appointments on their own time schedule, even on weekends or at night".
You can download a free 30 day demo of Scheduleview appointment scheduling software from the scheduleview.com website or call Scheduleview at 866-877-8555 or 941-255-3126 for a free demo cdrom.
###