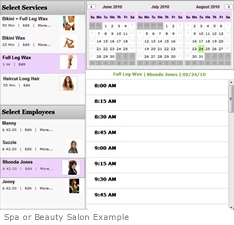 Miami, FL (PRWEB) April 5, 2010
Appointmentsearch.com announced the release of its new online appointment scheduling software. The program, dubbed as 'Your 24 Hour Receptionist', lets you schedule your appointments at anytime and from anywhere right from your company's website.
Appointment Search is an appointment scheduling software and a receptionist rolled into one. By reducing the number of appointment phone calls and increasing appointment bookings, it saves a lot of time and reduces workload for busy assistants and employees. The application also sends automated appointment confirmation emails and reminders via text and email to make scheduling and following-up easier.
The user-friendly design and functionality of the program makes it the least-cluttered and most straightforward appointment management application. Accessible by simply going online, your staff and customers can book their appointments very easily.
"Appointment Search can actually be used as a customer self-servicing tool to fix appointments and our test runs have shown that both clients and service providers are very happy with the experience," says Manuel Ormaza, the chairman and CEO of AppointmentSearch.com.
Built on Java utilizing the latest web development techniques and technologies such as AJAX and JQuery, this application stands out for its user-friendly design. All scheduling tasks can be performed by the user without having to reload the page. With no software to install, the application runs on secure servers behind a safe and robust enterprise-wide firewall.
The application is accessible from virtually everywhere. Both your employees and clients can look into your appointment book simultaneously and schedule their own appointments without any hassles or phone calls. Users can just log into the server using a web browser and plan their appointments online. For the people on the go, the application has been made smart phone friendly.
From doctors offices to beauty salons and tutors to personal trainers, everybody can use this '24 hour receptionist' to save time and reduce reception costs. Clients too are delighted to know that they can fix their appointments with their dentist or therapist even if they forgot to do so within office hours. And the administrators are happy that they can save about 6 to 10 hours every week using this smart online appointment scheduling system.
Appointment Search supports small businesses and that is why it is supplying a free version to single users. Monthly package prices start at $15 per month for up to five employees, with unlimited free access to assistants, receptionists and clients. New customers can sign up now for a no-cost, risk-free 30-day trial at AppointmentSearch.com.
About Appointment Search
Appointment Search is an online appointment scheduling system that can be accessed by users setting appointments from anywhere and at anytime simply by using a web browser. By enabling their clients to fix their schedule online, users of this online application can eliminate time-consuming phone calls and save a lot of time.
For more information, visit http://www.AppointmentSearch.com.
# # #