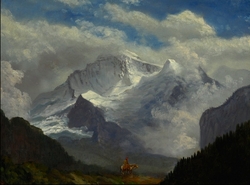 "When people said the painting must be worth a million dollars, David Goldberg would say, 'Then buy it for $500,000.' "
New Orleans, LA (PRWEB) September 14, 2010
When a resident of the small town of Marshall, Texas, inherited a 100-year old mansion in the even smaller town of Jefferson, Texas, she thought one of the oil paintings might bring $2,000. Then, a New Orleans art appraiser told her the painting, Albert Bierstadt's Western scene "Above the Timberline," was worth much more. At a recent auction, the oil painting brought $105,300, proving the value of a good appraiser.
The painting, entitled "Above the Timberline," showed snowcapped mountains in the distance and a lone Indian horseman in the foreground. It evoked an America that long ago disappeared.
Mrs. Nelson had searched the Internet for nearby antique appraisers without finding one she felt was qualified. When her husband suggested she search a city known for its antiques, things began to fall into place. By googling New Orleans appraisers, she came up with David J. Goldberg of The Appraisal Group.
Mr. Goldberg met Mrs. Nelson's criteria. He was CAGA certified. He had taught antiques at LSU and Tulane, which meant he must know his stuff. He had also helped more than 146 people contest insurance claims after Hurricane Katrina. That gave Mrs. Nelson confidence in his abilities. When she met him, David Goldberg's knowledge and demeanor impressed her even more.
On appraising the contents of the house, Mr. Goldberg offered several options:
Sell some of the antique furniture to well-known dealers of Victorian furniture...
Hold a nationally advertised estate sale on premises for the rest. With 30 years experience in antiques and auctions, Mr. Goldberg easily organized, advertised and conducted the sale...
Sell the Albert Bierstadt oil painting at auction.
Waiting for the right auction, meant turning down a private offer for $70,000. It also meant trusting the appraiser. "When people told me the painting must be worth a million dollars, David Goldberg would say, 'then buy it for $500,000 - and we'll all make out.' "
Mrs. Nelson recalls that David Goldberg gained her trust by explaining the art market to her. Fine art paintings, he said, fall into categories and each category has its own group of collectors and its own specialty auction houses. With Western Art, he noted that the Coeur d'Alene Art Auction(which conducts its summer auction in Reno) has the strongest sales record in its field.
That was February and the next auction was not scheduled until July 24, 2010. In the meantime,
Mr. Goldberg set about turning Libby Nelson's historic home into an antique shop.
The Jefferson Historic Home estate sale was publicized across the United States, with excellent results. "Stuff just flew out of the house," Mrs. Nelson said.
After the estate sale, the only thing left to do was finalize travel plans to Reno for the Coeur d'Alene Art Auction. It was Mrs. Nelson's first trip to Reno and her first big auction.
On the day of the art auction, Mrs. Nelson, her husband and David Goldberg sat together. With absentee bids stacked up and bidders in the room going up against telephone bidders and bids from the online auction component, the event was high energy.
When the auctioneer brought the Albert Bierstadt, known as Lot 84, to the podium, Mrs. Nelson waited nervously as bidders drove the price up and up. The final sale price came in at $105,300, including the buyers' premium.
David Goldberg had been right. He had appraised Albert Bierstadt's snow capped mountain scene realistically at more $100,000. He had located the right auction house for it. And he gave Libby Dannelly Nelson a day—and a nest egg—she will never regret.
###