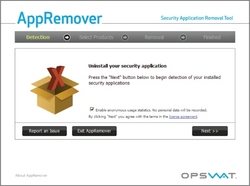 This utility is ideal for security software and technology vendors seeking to add a complete uninstall feature to their product
San Francisco, CA (PRWEB) September 16, 2009
OPSWAT, Inc., the the leading provider of software development tools and data services to power manageability and security solutions, today announced the launch of a release version their AppRemover™ application. Already boasting more than 120,000 downloads, AppRemover™ is a lightweight package that enables the complete uninstallation of many antivirus and antispyware applications. Designed with simple, easy-to-use controls, AppRemover™ is a valuable tool for end users, system administrators and antivirus, antispyware and support solution vendors that want to ensure seamless removal of endpoint security applications. It is available as a standalone GUI rich application, an API or a command line interface targeted at software developers interested in creating their own silent uninstallation agents.
AppRemover™ should be used when:

One security application is being replaced with another
An uninstallation procedure fails, is interrupted or is incomplete
Either the application password or a connection to the security application server is unavailable
"This utility is ideal for security software and technology vendors seeking to add a complete uninstall feature to their product," said Oren Shnitzer, AppRemover™ research and development manager at OPSWAT, Inc. "AppRemover answers market demand for an easy-to-use program that eliminates superfluous files and registry keys left by various IT security solutions. To provide the best support possible, it is updated monthly in a cloud-based fashion from data supplied by the user community and by OPSWAT Labs' own testing."
AppRemover™ version 2.1 supports hundreds of applications on Windows XP, Windows Vista and Windows 7 operating systems. Recent changes are always added to the application's blog. Readers are encouraged to discuss the application or request new features. In addition, the application now supports full security suites and adds functionality to complete partial or interrupted unstallations. AppRemover™ is free for personal and non-commercial use - please visit http://www.appremover.com/ to download. If you are interested in a commercial or OEM license for AppRemover™, please visit OPSWAT's website at http://www.opswat.com or contact sales@opswat.com.
About OPSWAT:
Founded in 2002, OPSWAT provides software engineers and IT pros with software development tools and data services to power manageability and security solutions. The company OPSWAT, Inc. also founded OESIS OK, an open, industry-wide certification program that verifies the interoperability of endpoint security applications with products from market-leading technology vendors. The free "Am I OESISOK?" Utility hosted on http://www.oesisok.com enables end users to assess the interoperability and quality level of their endpoint applications.
###