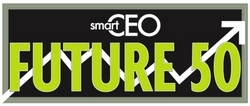 We are excited to be named by SmartCEO as one of the fastest growing companies for the second year in a row
Reston, VA (Vocus) January 21, 2009
Approva Corporation , the leader in risk and controls intelligence software , announced today it has been named to the Washington SmartCEO magazine/BDO Seidman LLP 2009 Future 50, which recognizes the 50 fastest growing companies in the Greater Washington area based on employee and revenue growth over a three year period.
"We are excited to be named by SmartCEO as one of the fastest growing companies for the second year in a row," said Prashanth "PV" Boccasam, Approva's founder and chairman. "In the current business environment, companies are looking to Approva more than ever to automate the way they identify, monitor and respond to business exceptions that result in unnecessary risk, waste and inefficiency."
Winners of SmartCEO's 4th Annual Future 50 will be recognized at a black-tie dinner on January 29, 2009 at the Hyatt Regency Bethesda in Bethesda, MD. The 50 Greater Washington companies who receive the award are also profiled in the January issue of SmartCEO Magazine.
"Each Future 50 winner has effectively translated their passion and innovation into tremendous growth and success," said Jaime Park, Group Associate Publisher at SmartCEO Magazine. "We are honored to recognize Approva as one of the 50 fastest growing companies in Greater Washington."
"Approva has overcome formidable challenges and obstacles on the path to success, and we are excited to once again have the opportunity to celebrate the achievements of all our Future 50 winners," adds Tony Cord, Managing Director, Strategic Development at BDO Seidman LLP, title sponsor for the 2009 Future 50 Program. "Today's fast growing Future 50 companies represent tomorrow's leaders that will provide the foundation for the Greater Washington business community for years to come."
For a complete list of winners, visit http://www.smartceo.com.
About Approva
Approva® Corporation is the industry-leading provider of business exception management software and is the industry standard for Big-4 accounting and risk advisory firms. We enable business, finance, IT and audit professionals to intelligently identify, manage and prevent exceptions that impact performance. Global companies such as Bayer, DirecTV, Discovery Communications, First Advantage, Honeywell, P&G, Pratt & Whitney and T-Mobile rely on Approva to provide accurate, actionable and auditable intelligence of control breakdowns that result in fraud, risk, inappropriate payments and inefficient business processes. For more information, visit http://www.approva.net.
Title sponsor, BDO Seidman LLP is a national professional services firm providing assurance, tax, outsourcing, financial advisory and consulting services to a wide range of privately held, publicly-traded and tax-exempt organizations. According to Tony Cord of BDO Seidman, "High-growth companies have unique strengths and challenging requirements. As a CPA firm, our people truly enjoy the opportunity to serve the complex needs of companies like these, so BDO is proud to serve as the Title Sponsor and I am delighted to work as Co-Chairman of the event with SmartCEO Publisher Craig Burris."
SmartCEO's public relations partner, Lustig Communications, based in Rockville, MD, delivers strategic media relations and communications services to fast growth companies, emerging technology firms, Federal IT providers and start-ups. Core capabilities include media relations with impact, strategic messaging, thought leadership content creation (white papers, articles, Web content) and internal communications. Lustig Communications identifies where each client's influencers reside, and then builds innovative and focused public relations programs - offline and online - that effectively reach these decision makers and deliver a tangible return on investment.
Media Contact:
Priya Ramesh
Approva Corporation
703-956-8409
# # #