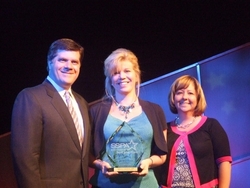 We are truly honored to be a winner of the SSPA Star Award for Best Practices
Santa Clara, CA (Vocus) June 3, 2008 –-
The Service & Support Professionals Association (SSPA), the largest and most influential association for technology service and support professionals, earlier this month named Approva Corporation the winner of the 2008 SSPA STAR Award for Best Emerging Company Support.
The award recognizes technical support within emerging businesses (defined as companies with under $500M in total annual revenue) for which exemplary customer support is important for company growth and is typically provided with constrained resources. Approva demonstrated how their technical support effectively maintains their customers' satisfaction and loyalty, and helps drive new business. Approva was honored during a luncheon awards ceremony at the SSPA Best Practices Conference in Santa Clara, California, on May 6.
"SSPA standards are the benchmark for IT Service and Support professionals worldwide," said Stephen Smith, Executive Director, SSPA. "The competition especially in the Emerging Company Support category was fierce this year and Approva's Global Customer Support organization demonstrated a 90% satisfaction rate which is way above the industry standard. It is quite impressive for a young venture like Approva to have established industry best practices in superior technical support and service offerings that align their support efforts with some of the big brand names in the IT industry."
This is the second year in a row that Approva Global Customer Support has been recognized by SSPA for excellence in technical support and customer satisfaction ratings. The company's global support team has introduced several key initiatives including "Get SMaRT," a monthly training program to provide ongoing customer education and Approva University, a formalized curriculum to address the learning needs of customers and audit partners and help them achieve the status of Approva Certified Professionals (ACP). There are currently over 1,000 Approva Certified Professionals worldwide representing Big Four audit firms and Global 2000 companies and the demand for Approva University's standardized BizRights® education program has grown exponentially.
"We are truly honored to be a winner of the SSPA Star Award for Best Practices," said Judith Platz, VP of Global Customer Support, Approva. "Customers have been the centerpiece of Approva's success as an industry leader in controls intelligence and this award validates our mission to provide world class support that enhances the value customers achieve from Approva's products. We are constantly innovating our service offerings and our customers can now choose from three dedicated service options: Support Account Management, Designated Technical Contact Services and High Touch Response Services, all geared towards increasing our customers' operational efficiency."
About the SSPA
As the industry's foremost professional association, the Service & Support Professionals Association (SSPA) is a key resource for the information and best practices needed to make better business decisions. It brings together the best minds from across the industry spectrum – from established companies with successful track records to the pioneering newcomers with out-of-the-box ideas. The SSPA also partners with thought leaders such as J.D. Power and Associates and the Wharton School of Business to create programs that benefit the industry. The SSPA is a member of a global network of associations that includes the Technology Professional Services Association (TPSA), the Association for Services Management International and the Electronic Supply Chain Association. For more information, visit http://www.thesspa.com
About Approva
Approva® Corporation is the leading provider of controls intelligence software and is the industry standard for three of the five largest audit and advisory firms. We automate controls across SAP, Oracle, JD Edwards, PeopleSoft and other legacy ERP applications. Global companies such as Bayer, Colgate Palmolive, DirecTV, Discovery Communications, First Advantage, Honeywell, P&G, Pratt & Whitney, Siemens and T-Mobile rely on Approva to reduce compliance risk, increase operational efficiency and flag exceptions to their business controls. Approva has certified integrations with Microsoft, Sun Microsystems, IBM and SAP to provide a holistic GRC solution. For more information, visit http://www.approva.net or call us at +1-703-956-8300.
Media Contact:
Priya Ramesh
Approva
703-956-8409
priya.ramesh@approva.net
###