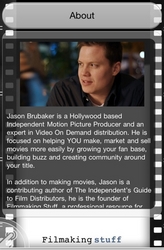 The filmmaking stuff iPhone app provides everyday, creative people with a roadmap on how to make filmmaking the next small business.
Los Angeles, CA (PRWEB) February 10, 2011
A new iPhone app is being launched today that will help take filmmaking out of Hollywood, and put it into the hands of everyday, creative people so that they can pursue their life's ambition of making movies.
Quiet please…we have speed…ACTION! If you ever wanted to make a movie, but didn't have the money, know-how or freedom to pursue your dreams in Hollywood, a new filmmaking iPhone app released today will bring independent filmmaking to the palm of your hand, literally.
The Filmmaking Stuff iPhone app is the brain child of Jason Brubaker, a Los Angeles-based independent filmmaker and an expert in Video On Demand distribution. He has run his popular filmmaking website, Filmmakingstuff.com for years and is taking his experience to the next level.
"The Filmmaking Stuff iPhone App is focused on helping independent filmmakers make, market and sell movies more easily," he says. "The filmmaking business has changed. Enhanced production technology and the evolution of Video On Demand distribution means you no longer have to live in Hollywood to make movies or make money making movies."
The Filmmaking Stuff iPhone app covers the four key areas of filmmaking: screenwriting, film financing, filmmaking and distribution. Specifically, the app is designed to help filmmakers produce their movies, grow their fan base, build "buzz" and make filmmaking their next small business.
"Since moving to Hollywood for a half-decade ago, everything has changed. You can make a movie and distribute a movie from anywhere. The Filmmaking Stuff iPhone app allows filmmakers to access modern moviemaking tips and tricks in the palm of their hands," he emphasizes.
Aside from producing movies, Brubaker is a contributing author of The Independent's Guide to Film Distributors, he is the founder of Filmmaking Stuff, a professional resource for independent filmmakers, and his articles on independent movie marketing, distribution and film production have been featured in The Independent and Movie Maker Magazine.
To find out more and download the filmmaking app for free, check out http://www.MakeYourMovieNow.com
###