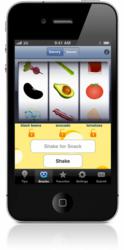 People shouldn't feel guilty about eating what they like in small amounts, especially when they regularly eat fresh fruits, veggies and whole grains.
- Heather Wolf, Shake a Snack Creator
Gulf Breeze, FL (PRWEB) September 29, 2011
Shake a Snack, a virtual ingredient slot machine filled with simple and healthy 3-ingredient recipes, was just named one of the "Top Shape-Up Apps" in the October issue of Health magazine. The app's creator, Heather Wolf, says her passion for juggling is what sparked the idea for the app.
Heather learned to juggle while touring as a bass player for Ringling Brothers and Barnum & Bailey circus. "Juggling was such an easy way to get exercise, and I immediately fell in love with it." In 2006, she started a business called JuggleFit in which she teaches juggling for fitness through her DVDs, live workshops and classes. Wanting to integrate simple meal preparation and healthy eating strategies into her fitness business, Heather started thinking about "juggling" three ingredients together to make a snack or mini-meal. "For years, I had been throwing a few ingredients into a plastic container, covering it, and then shaking it up. I thought the three-ingredient concept fit right in with juggling three balls, so I decided to create the Shake a Snack app." The app is a virtual slot machine containing three reels filled with ingredients. A shake of the iPhone or iPod touch gets the reels spinning to land on one of over 300 sweet and savory snack and mini-meal recipes.
While it may seem strange to see an avocado in a slot machine, it's even stranger to see a tiny jar of Greek yogurt spinning in the reels. Heather comments, "I found out there really is an actual slot machine with an avocado in it, but I doubt there is one with Greek yogurt!" Along with healthy ingredients, Shake a Snack contains plenty of indulgent ingredients like dark chocolate, blue cheese, and even bacon. Some may wonder how such foods can help you shape up. "Just like with anything, moderation is key," says Heather. "I could never resist the temptation for certain foods like chocolate, yet I have always maintained a healthy weight. People shouldn't feel guilty about eating what they like in small amounts, especially when they regularly eat fresh fruits, veggies and whole grains." Shake a Snack recipes are portion-controlled, with most falling in the range of 100 to 300 calories. The app also includes tips for satisfying common cravings in healthy ways and saving time and money on food preparation.
Heather continues to experiment with new ingredient combinations. She says, "I'm looking forward to adding more and more recipes. There are endless possibilities, I want to reach at least a thousand."
About Heather Wolf
Heather Wolf is an ACE-certified personal trainer and group fitness instructor and the founder of JuggleFit LLC. She has appeared on shows such as Fox & Friends and CBS Atlanta Better Mornings and has taught thousands to juggle for fitness. Heather is available for interviews and on-air demonstrations of simple fitness and healthy eating. For more information about Heather and JuggleFit, visit http://media.jugglefit.com or call 850.932.5570.
###