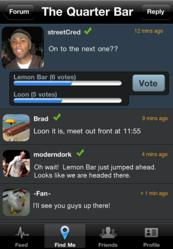 Version 2 of the app has our business offering built in already and we'll be rolling it out with partners very soon.
Dallas, TX (PRWEB) July 19, 2011
Locai is a location based mobile platform that allows users to ask questions at places. These questions act as conversation starters and are sent to people at that place, people who follow that place, their friends, and their social networks. The three co-founders of Locai, Inc. (formerly locaii, Inc.) have been making a lot of changes over the last four months. They've removed unused features, built out the more popular features, restyled the app, redesigned the interface, and even dropped an "i" off the name. Their goal is twofold: provide the best user experience possible and, more importantly, solve the user scarcity problem inherent in location based platforms. The company is doing this without having taken any money from outside investors. It's another proof point that a lot can be done with three guys, 2 dogs, and a couple of cats.
So, what is the user scarcity problem? All of these location based services and platforms function around local places. This means the interaction will take place between users when they are out at a place. Most places have a small number of people at them during any given time. Thus, the chances that two or more users of the same app are at a place at the same time are very small. Apps that rely only on these interactions have to either focus heavily on local user acquisition or provide a game mechanic to keep people engaged.
Locai took a similar approach by adding game mechanics but quickly realized that the interaction in the app was sophisticated enough that these only got in the way of the user experience. The team removed all of the game elements from the app and instead focused on the conversations users were having. The second version of the app is more streamlined and offers the user the ability to not only post a question for people at their current location but to also share it with their friends who aren't there. Even in low density areas users can add a few friends and get nearly instant feedback to their questions at places. These conversations stay at those places as a source of information for later users or as a way to meet new people.
This new version also aims to solve the problem when a new user has no friends and no one around them. The app now has both Facebook and Twitter integration so that a user can share their question with friends on both of those services. Locai itself also gets involved by seeding locations with their own branded characters. A couple of these conversation starting characters include a gun-toting, poll-loving panda named Pandemonium and a food-delivering robot that thinks it's a food critic named Foodie. These mechanics could be enough to persuade a user to stay long enough to get some friends on the service. If enough of them do the same in the same city then users will start running into each other at places and the scarcity problem is solved.
The company has yet to announce how it is going to monetize the app but Taylor Cavanah, Locai's President and CEO, hints at their direction, "There is a tremendous amount of data generated in this space and brands and local businesses will pay for it. We have more interaction between users and places so we will have richer data. Version 2 of the app has our business offering built in already and we'll be rolling it out with partners very soon." The largest brand locai has worked with to date is IFC but judging by the list of local eateries on their website, local restaurants could be a focus as well.
We will see if version 2 delivers on both accounts after the launch. You can learn more about the company and download the app at http://www.locai.com.
###