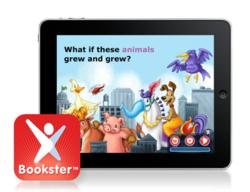 Provo, UT (PRWEB) September 07, 2011
Imagine Learning has released a significant upgrade to Bookster™, an interactive reading app for kids. The popular app was designed to entertain young readers while helping them develop reading skills. The app now features a bookshelf with eight new books and is available for iPad, iPhone and iPod touch, as well as Android devices.
Bookster is a read-along storytelling app that not only reads to kids but also records and plays their voices—all while teaching vocabulary. With turnable pages, a read-along mode that highlights words as they're read aloud, and an easy-to-use interface, Bookster is designed to make reading fun and easy for even the youngest of learners.
The upgraded version of Bookster features nine books filled with dynamic artwork from acclaimed artists, including New York Times bestselling illustrator Maryn Roos. New page previews and story summaries allow users to preview books before adding them to their bookshelves. The app can be downloaded for free through iTunes, the Android Market, or the Amazon Appstore for Android. More books will be added to the app in the coming months.
Imagine Learning, best known for its award-winning language and literacy software solution, Imagine Learning English, sees mobile applications as another way to deliver engaging, effective literacy instruction to children.
"Kids naturally love to explore picture books, but today's mobile devices invite an even higher level of engagement," said Clydie Wakefield, executive director of curriculum development. "With Bookster, kids can touch the words on the screen and hear them read again, turn pages, listen to a narrator and even become narrators themselves by recording their own voices. In the process, they learn print concepts, expand their vocabulary and develop a love of reading."
The app was designed with both children and educators in mind, said Derek Dobson, director of product management at Imagine Learning. "Bookster is a wonderful app for both home and school use," said Dobson. "More and more classrooms are implementing mobile devices like iPads and iPods as part of the curriculum, and we are working to meet schools' technology needs by supplying them with quality content that is both educational and engaging."
In a review on iPad Curriculum, a website that spotlights top educational iPad applications and practices, Edublog award-winner Kelly Tenkely identified Bookster as a valuable tool for helping students develop fluency.
Tenkely noted that giving students feedback on proper pronunciation and enunciation can be a challenge. Bookster helps teachers provide better feedback by enabling students to "play back their recording and compare what they recorded with the prerecorded narration, hearing the difference for themselves," Tenkely wrote.
About Bookster
Designed by educators to help kids of all ages develop literacy skills, Bookster makes beginning to recognize and read new words fun and easy for even the youngest of readers.
Your kids will love Bookster's

Entertaining illustrations
Engaging narration by kids their age
Read-and-record mode that records as they (or you) read out loud
Listen-to-recording mode that reads the book with their narration
Read-along mode that highlights words as they are read aloud, teaching word recognition and vocabulary
Easy-to-use interface
Turnable pages that let them move at their own pace
Interactive pages with tappable words
###