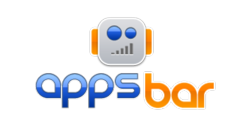 We predict the evolution will continue through 2012 as mobile device users grow from passive participants to active contributors in what can only be described as a digital phenomena driven by everyday people
New York, NY (PRWEB) December 30, 2011
The 2011 holiday season is ending with unprecedented activity at http://www.appsbar.com with thousands of new users joining the community to build their own apps for free and downloads swelling to over 1.5 million.
Mirroring record-setting activity in Android and Apple app stores over the holiday season, appsbar.com welcomed a swarm of first-time Do-it-Yourself app builders into its 60,000-user community, where anyone can build and publish apps to app stores for free.
"App stores saw unprecedented activity in 2011, and we predict the evolution will continue through 2012 as mobile device users grow from passive participants to active contributors in what can only be described as a digital phenomena that is driven by everyday people," said Scott Hirsch, founder of appsbar.com.
According to research released by mobile apps research firm Flurry, nearly a quarter of a billion app downloads occurred on December 24th and again on Christmas Day 2011, which is more than double any other day in the history of Apple's and Google's app stores.
Apple's App Store is predicted to close 2011 with about 10 billion app downloads, Flurry reported. Google's Android Market, which in May 2011 recorded only 3 billion downloads, is predicted by Flurry to see over 10 billion cumulative downloads reached by year's end.
As new mobile devices were activated over the holiday season, appsbar users helped drive the trend, with record numbers of new users joining the free community to build and publish their own personalized apps. Over the holiday weekend, appsbar welcomed 10,000 new app builders and saw a spike in the total downloads of appsbar-built apps, with more than 1.5 million downloads.
Hirsch said appsbar users' apps each averaged 500 to 1,000 downloads within the first day of being published. appsbar's additional look at download trends found that free apps were sustaining app store activity as users approach apps the same as websites and social networks: doorways to engaging friends and families or the businesses they support.
appsbar also noted that that appsbar apps that receive the most downloads are more dynamic and highly personalized. Popular downloads have more pages and offer access to social networks, videos, sound, online catalogs, and digital coupons.
"There has never been so much activity and opportunity for everyone in the app world," said Hirsch. "With the on-going development of free tools, anyone can build an app that reflects their unique personality, interests, or business and share it all with the world."
About appsbar: appsbar was launched in 2011 to fill the gap between over-simplified apps and costly, professionally-produced apps. appsbar was developed by Appsbar Inc., a company founded by Scott Hirsch. appsbar has grown to a community of everyday app developers and opened the way for businesses and people to engage with friends and brands online through the development of customizable digital tools. For company contact information and partnership opportunities, visit http://www.facebook.com/appsbar or http://www.appsbar.com. Follow appsbar on Twitter at @appsbar_inc.
###