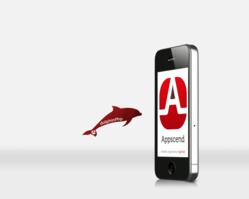 "Through the DolphinPHP framework, companies no longer need to increase their budgets for additional personal for mobile app building and management, but benefit from the inside PHP talent they already might have", Sebastian Vaduva, CEO Appscend.
New York, US (PRWEB) January 14, 2013
With the new DolphinPHP framework, businesses and customers can speed-up the development of native mobile applications, while also relying on a rich set of tools for commonly needed tasks and an intuitive structure to access them. This new leap forward aligns perfectly with the company's initial vision on native mobile applications: cross-platform development frameworks, backend services and management tools safely integrated in cloud infrastructure create interactive experiences that drive simple and fast-paced user engagement.
"PHP is the ideal choice for many web developers, being the most popular programming language to date, but so far it has not been employed into coding native cross-platform mobile apps. Through Appscend's new framework, the PHP community can extend its reach and develop native mobile applications for smartphone and tablet users worldwide by simply using their current programming skills. Moreover, companies no longer need to increase their budgets for additional personal, but benefit from the inside PHP talent they already might have," mentioned Sebastian Vaduva, Appscend CEO and Co-Founder.
Appscend has a deft hand in offering the means to develop and manage applications throughout the entire app life cycle and provides reliability and security in an ever-fluctuating mobile industry. Appscend assists companies worldwide in developing and managing a large number of simple or complex, native or hybrid mobile applications by offering its customers the fastest cross platform development technology available on the market today. Appscend provides a complete mix of backend services that ensure application and user management, a powerful push notifications system as well as a complete set of app analytics.
"With IgniteMarkup, Appscend's innovative and proprietary mobile markup language, customers can empower rich and multiplatform mobile experiences. Based on IgniteMarkup, the DolphinPHP framework provides web programmers with a set of resources and tools that help with designing stunning interfaces and interactions in mobile apps, all while using a programming language they are already familiar with. For instance, it only takes one line of code to get the user's location, to send a Push Notification or to request the content of an article from our cloud-based Content Management System via Appscend's API. Creating, debugging and deploying apps using Appscend and our PHP framework is now truly effortless," mentioned Gabriel Dobocan, Appscend Co-founder.
To capitalize on the mobile market growth, Appscend will continue to expand and tailor to the needs of the increasing number of customers and partners. Details on installing DolphinPHP are listed in Appscend's Academy: http://appscend.zendesk.com/entries/22525421-dolphinphp-from-scratch.