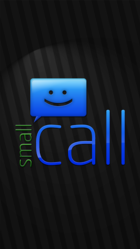 We thought of creating the contest as a unique way to interact with all of our supporters. This gives us a fun chance to give our creative, loyal users something that they're truly excited about
Houston, TX (PRWEB) May 16, 2013
Innovator of new mobile apps for Android, Apps FaLyf, LLC, is pleased to sponsor a video production contest for premier app, Small Call. The contest is in response to the newest upgrade to Small Call, version 2.0 which debuted last week, and the sensational popularity surrounding the Samsung Galaxy S4.
Small Call is a smartphone utility app made exclusively for the Android operating system that changes the way one works on a smartphone. Small Call alerts users with a one second ringtone when an incoming call or text message is received. By displaying a single line notification bar for calls and texts, users may continue to write an email or play a game with minimal interruption, making Small Call the most cutting-edge mobile utility app for Android in the market.
Through the video contest, Apps FaLyf wants to engage with users around the world that have shown support for Small Call since it first hit the Google Play market in December. Given the recent Google announcements and surge in demand for the Galaxy S4, Apps FaLyf is excited to garner many diverse entries.
Contestants are asked to create a video between thirty seconds and two minutes in length and upload the entry to YouTube. Video entries are encouraged to be as unique and creative as possible, but must incorporate Small Call artwork in some way within the submission. Winning videos will be used to promote and demonstrate Small Call on the main page in the Google Play market, as well as on the website.
This is an exclusive chance for users and artistic visionaries to gain exposure as Small Call begins to attract a far-reaching audience. Managing partner, Val Arnold said, "We thought of creating the contest as a unique way to interact with all of our supporters. This gives us a fun chance to give our creative, loyal users something that they're truly excited about."
Contest entries will be accepted until July 31st, 2013, after which Apps FaLyf will select the best 10 video submissions as finalists. After the finalists have been chosen, fans of Small Call on Facebook and followers on Twitter will vote for the winner. The winning submission will receive $1,000 and the new Samsung Galaxy S4. One runner up will also win a Samsung Galaxy S4. The winner and runner up will both be announced online August 15, 2013.
Full terms, rules, and conditions apply. To access the full list of these terms, or for more details on Small Call assets, email Contest(at)AppsFaLyf(dot)com.
About Apps FaLyf, LLC:
Apps FaLyf is a start-up created nine months ago on the foundation of unique and cutting edge smartphone functionality. Apps FaLyf teamed up with Austin, Texas based Rocksauce Studios to develop Small Call and quickly forged a strong business relationship. Apps FaLyf, LLC is an emerging, user-centric technology company that plans to continually and rapidly update Small Call. In the future, Apps FaLyf plans to develop several more cutting-edge mobile applications focused on making users' lives easier.
Small Call is available in the Google Play Market for Android Apps at a one-time cost of $3.99. For more information about Small Call, Apps FaLyf's upcoming breakthrough mobile developments, or to request a free version of Small Call Version 2.0 via .apk file, contact Media(at)AppsFaLyf(dot)com.
Website: http://www.AppsFaLyf.com Phone: 281.783.9181
Facebook: http://www.Facebook.com/SmallCallApp Twitter:@AppsFaLyf
###