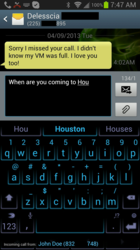 In the world of utility apps Small Call 2.0 is one of the most exciting developments to date. Minimizing interruptions means I can stay focused on what is important to me.
Houston, TX (PRWEB) May 07, 2013
Apps FaLyf, LLC is proud to announce the much anticipated update to Small Call, the revolutionary new smartphone app designed for the Android platform. Small Call is a new utility app first introduced late last year that fundamentally changes the way one works on a smartphone. Small Call v2.0 presents new intelligent upgrades to the original platform. Version 2.0 features one second ringtone alerts with single line notifications of texts and calls to create the most cutting-edge version of any call handling utility app in the market.
Typically when an incoming call is received, it dominates the entire screen and disables the activity in which the user was previously engaged. In any open app, with Small Call v2.0 for Android, an incoming call has the option of ringing or vibrating for one second while a single line of text appears at the bottom of the screen. The new smartphone utility app gives the user the options to reject a call discreetly (silently completes ring cycle instead of immediately going to voicemail); to reject a call and then send the caller a pre-composed text; or to simply answer. The one second ring feature automatically minimizes the distraction of ongoing ringtones.
Version 2.0 also coordinates viewing text messages. Incoming SMS or MMS are now a single line of scrolling text subtly displayed at the bottom of the screen. Newly upgraded settings allow for customization of individual functions including the ability to mirror text handling after call handling settings.
Previous versions of Small Call were upgraded to collaborate more succinctly with Android operating systems within the Samsung Galaxy series. With the introduction of Small Call 2.0, users will immediately notice increased compatibility and stability in any Android operated smartphone. This newest version of Small Call boasts seamless call and text handling while providing for a more robust experience throughout the entire application.
Small Call v2.0 has improved ringer handling, better-quality vibration handling, and enhanced silent handling creating the most full-bodied version of Small Call to date. Furthermore, the update contains improved diagnostics reporting,
translations, and settings.
Apps FaLyf partner, Val Arnold said, "In the world of utility apps, Small Call 2.0 is one of the most exciting developments to date. I can continue to play my favorite games, read eBooks or articles in Pulse, or post a Tweet without my screen getting high jacked by an incoming call or text. Minimizing interruptions means I can stay focused on what is important to me."
There has been a fundamental change in the ways people interact on cell phones. Rather than only making and receiving calls, smartphone users utilize their phones more like social computers. People spend hours a day working and interacting on their devices. By minimizing disruptions with Small Call v2.0, smartphone users can work more efficiently. In a professional setting, the single second ringtone feature helps maintain a quiet environment. Smartphone users can continue to surf the web, send out an email, employ navigation systems, listen to music, or play a very serious game of Angry Birds with minimal interruption.
About Apps FaLyf, LLC:
Apps FaLyf is a start-up created nine months ago on the foundation of unique and cutting edge smartphone functionality. Apps FaLyf teamed up with Austin, Texas based Rocksauce Studios to develop Small Call and quickly forged a strong business relationship. Apps FaLyf, LLC is an emerging, user-centric technology company that plans to continually and rapidly update Small Call. In the future, Apps FaLyf plans to develop several more cutting-edge mobile applications focused on making users' lives easier.
Small Call is available in the Google Play Market for Android Apps at a one-time cost of $3.99. For more information about Small Call, Apps FaLyf's upcoming breakthrough mobile developments, or to request a free version of Small Call Version 2.0 via .apk file, contact Media(at)AppsFaLyf(dot)com.
Website: http://www.AppsFaLyf.com Phone: 281.783.9181
Facebook: http://www.Facebook.com/SmallCallApp Twitter:@AppsFaLyf