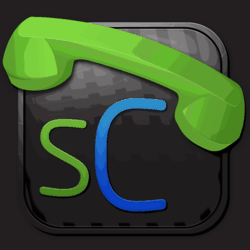 By introducing the free version of Small Call, we hope to drastically change the way users view incoming calls, and the way carriers and manufacturers deliver them.
Houston, TX (PRWEB) June 19, 2013
Innovator of new mobile apps for Android, Apps FaLyf, LLC, is pleased to announce the most recent release of Small Call. There have been four upgrades since the app premiered in December 2012. Small Call free promotes some of the best features of Small Call PRO.
Managing Partner, Val Arnold responded to the recent change in business model. "By allowing our users to have unlimited access to the app, we hope to draw attention to the ways in which Small Call strives to make life on a smartphone easier for everyone. It should be up to smartphone users to decide what is important to them, not the choice of cell phone carriers and manufacturers."
Small Call is a smartphone utility app made exclusively for the Android operating system that changes the way one works on a smartphone. Small Call discreetly alerts users when an incoming call or text message is received. system, changes the way one works on a smart phone. By allowing options for handling incoming calls, Small Call users may continue to write an email, compose a text message, or play a game without having to stop to respond.
Small Call free released today follows the announcement of Apps FaLyf's video contest in which two lucky winners will walk away with prizes. First place will receive $1,000 cash and a Samsung Galaxy s4. One runner up will also receive the new Samsung Galaxy s4. Entries will be accepted until July 31st.
By getting more users involved with the brand through the contest and allowing more users to take advantage of Small Call with no cost, the company hopes to expand its reputation as an original and user-centric company.
"We founded Apps FaLyf on uniqueness, but also on the idea that mobile apps should enable users more control of their smart phones; particularly with the faster 4G connections. By introducing the newest version of Small Call, we hope to drastically change the way users view incoming calls, as well as the way carriers and manufacturers deliver them," Arnold added.
Small Call is available for download through the Google Play store for Android apps. For inquiries and comments regarding the app, or a list of full rules for the contest, refer to the contact information below.
About Apps FaLyf, LLC:
Apps FaLyf, LLC is a start-up created eight months ago on the foundation of unique and cutting edge mobile app functionality. Apps FaLyf teamed up with Austin, Texas based Rocksauce Studios to develop Small Call and quickly forged a strong business relationship. Apps FaLyf is an emerging, user-centric technology company that plans to continually and rapidly update Small Call. In the future, Apps FaLyf plans to develop several more truly original mobile applications focused on making users' lives easier.
Small Call PRO is available in the Google Play Market for Android Apps at a one-time cost of $3.99, and Small Call free is available today. For more information about Small Call, Apps FaLyf's upcoming breakthrough mobile developments, or to request a version of Small Call PRO via .apk file, contact Media(at)AppsFaLyf(dot)com.
Website: http://www.AppsFaLyf.com Phone: 281.783.9181
Facebook: http://www.Facebook.com/SmallCallApp Twitter:@AppsFaLyf