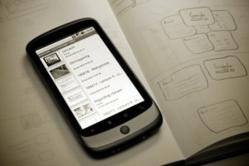 I was surprised, people were only opening my URL on the mobile until I added the app redirection code.
Alexandria, VA (PRWEB) January 22, 2013
The ease of opening an app on a mobile device entices users to visit mobile websites more often. AppsGeyser has taken this information and implemented a redirection script that will appear each time a user opens your webpage on a mobile device. According to statistics collated by AppsGeyser, the free Android app creation platform, mobile websites that promote apps increase app downloads by over a third.
Users accessing websites may be unaware that an Android app exists, by implementing AppsGeyser's code, mobile web users will automatically be advised of the app's existence and be offered the download link. More than one in three people will download the app with the intention of using the app again at another moment in time. The embedded code enables app makers to push their apps to the correct audience at an appropriate time.
'I am not a very technical person' Robert Simmons told us, "I was told to have my business website optimized for mobile which I did and I also created an app for my website. People were only opening my URL on the mobile until I added the app redirection code. Since I added the code, just last week, I have had 50 more downloads coming directly from my website."
AppsGeyser Co-founder Vasily Salomatov, told us, "People tend to make their websites mobile friendly and also create apps for their websites, they then get confused that the mobile website is being used instead of the app. We have implemented a redirection code that will let mobile web users know that an app is available for them to download."
About AppsGeyser
AppsGeyser, launched in February 2011, is a fast growing Android app creation platform. AppsGeyser enables users to create apps for Android devices from any web content in under five minutes. AppsGeyser has seen more than 312,000 apps created on its platform. There have been more than 169 million downloads of its apps.