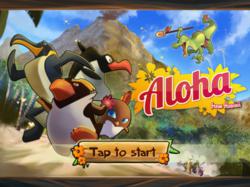 Milan, Italy (PRWEB) October 22, 2012
Forge Reply, independent mobile publisher and studio, division of Reply's company, is proud to announce that Aloha from Hawaii is available on the App Store today. Aloha from Hawaii invites gamers to join Annie, Bob, Max and Ziggy in their trip around the world looking for adventure far from the boring South Pole! What's better than Hawaii?
Aloha from Hawaii is a brand new platform/runner, featuring four amazing penguins superstars, hand drawn graphics and a unique cartoon style that can appeal both newcomers and fans of the genre. Run, jump and master the special moves of our heroes, exploring three continents to reach the Hawaii.
Features:

4 playable characters, switch among them and master their unique skills
Fantastic cartoon-style graphics with hilarious cutscenes
Story mode that spans across three different continents to discover
Endless mode to unlock for each game world
Runner/platform hybrid gameplay with smooth touch-based controls
Universal app, iPhone 5 and New iPad ready
Aloha from Hawaii is available now for free on the App Store, including the first set of levels, at: https://itunes.apple.com/app/aloha-from-hawaii/id552916046. The other two sets can be unlocked via in-app purchase.
Learn more on the Aloha from Hawaii web page, Forge Reply YouTube Channel or download the Aloha from Hawaii Press kit.
About Forge Reply
Forge Reply is a cutting-edge mobile, console, web games development company, dedicated to creating new and incredible gaming experiences for clients and users both on B2C and B2B market. We provide development services, to create commercially successful games.
The core team works with peer reviews, code reviews, regular meetings with a sophisticated team management.
Learn more: http://forgereply.com/