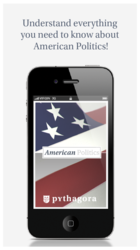 (PRWEB) October 30, 2012
American Politics enables everyone to thoroughly understand each US political institution, the full reach of the President's power, the electoral system and the key issues surrounding the current presidential election.
American Politics has been developed using a scientific method based on cognitive sciences research. This state of the art method consists of watching a video everyday and doing repetition exercises.
The daily program takes only 5 minutes a day and allows the user to learn 200 key facts within a month through 20 thematic videos.
These repetition exercises are effective because they are spread out over time : the first exercise is to be completed after 90 minutes; the next within 24 hours and the last one is completed 5 days after the first viewing.
One can choose to activate the daily program with alerts or learn at his or her own pace. To go on learning without an Internet connexion, videos can be stored in the phone's memory.
With American Politics, learning is fun ! It's possible to follow your rehearsals' progress as you collect badges each time you pass a level. You can also share your progression on Facebook.
Currently available on the iPhone App Store, Price : 1,99 US$ (1,79 €), at https://itunes.apple.com/app/us-politics/id567642767
American Politics can be used by anyone who has an average or a good level of English (level B1). It's an ideal method for increasing vocabulary as well as improving one's understanding of press news.
For more information or media inquiries, contact Mark Johnson of appshout! on behalf of Pythagora at +1 408 757 0156 or press(at)appshout(dot)com
About Pythagora
Pythagora is a publisher of educational content specially designed for mobile phones and tablets. We have created Pythagora since we are convinced that new technological tools enable new educational approaches. Thus, the new learning method Pythagora is born, based on scientific research on brain functioning.
In addition to American Politics, Pythagora's premiere release Learning English with World News enables users to learn the English vocabulary of the later World news.
Learn more: http://www.pythagora.com