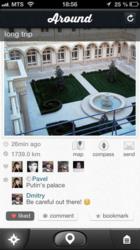 Cupertino, CA (PRWEB) April 12, 2013
Around is a free application for iPhone that allows users to share and explore different places. Around shows what is happening in the neighborhood and users can save, share and comment on interesting photos.
Here are the general features of Around:
Geotargeted photostream
Around shows photos that were added in a particular location, taking into account not only the distance but also popularity and novelty. This allows interesting photos and places to appear in the photostream, even if far away.
Users can "like", comment and subscribe to interesting authors. All profiles have an option of integrating with social networks. Around can be used without having friends and even without registration.
Users with friends have an option to look through the friendstream.
Collection of places
Around allows saving photos with exact coordinates to ensure that it's easy to find them later using a map or a compass. The accuracy is up to +/- 5 meters. Uses include finding a car on a parking lot, saving the information about an interesting café while travelling or just for simply finding out the distance from your home.
Filters with random effects
Pictures can be edited by pressing a filter icon. Users simply need to press the filter icon twice and the photo will be edited with slightly different effects. The picture can be changed until the needed result.
A useful additional option - fake pages and spam won't bother users anymore. One can post photos only using the application so it is guaranteed that a photo was made in the particular place and at the particular time. All places are posted only from smartphones of other people.
The application is free and does not contain ads or any hidden in-app-purchases.
The application can be download from iTunes at https://itunes.apple.com/us/app/around-neighborhoods-photostream/id615991011.
Please also visit the official site: http://www.around-app.com
For other information, please, contact 33 BITS at info (at) 33bits (dot) net.
About 33 BITS
33 BITS is a young and ambitious developers company based in Togliatti, Russia. The company has already developed an application for remembering places - Placer.
Learn more about Placer: http://www.placer.me