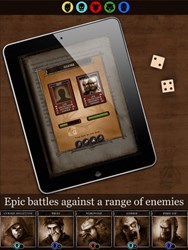 Hamnasya - Askaryl's Grimoire's tagline is 'read a story, play a game, become a hero' and that's precisely the experience we've sought to create.
Cupertino, CA (PRWEB) February 11, 2014
Fans of Hamnasya - Askaryl's Grimoire from Blue Flame Publishing Ltd can now download the newly-released version 2.0 of the dark, mysterious and magical role playing gamebook app, and enjoy new features including amazing 3D dice that use an all-new engine, and spectacular special effects for fight sequences involving magic items or special powers.
Hamnasya - Askaryl's Grimoire is part one of an epic saga that takes place in place in Hamnasya: a sprawling, pulsating, dark and foreboding world filled with strange characters, fantastical monsters, terrifying encounters, and all manner of might and magic. Gamers assume the role of Edhan, and must make numerous decisions as they help him avenge the death of his adoptive mother Alikia, and retrieve an immensely powerful book of magic that has been stolen from its rightful guardians, the Council of Great Wise Men. Each choice that gamers make directly and indirectly shape how the quest unfolds, and ultimately determines whether the story will end in triumph – or tragedy.
Other Hamnasya - Askaryl's Grimoire special features include:

An RPG Interface that lets gamers select abilities and special powers, and manage weapons, potions and magical objects to help them in their quest.
A Level Up system that lets gamers gain experience points and turn them into new abilities and powers.
An amazing fight interface featuring new special effects where gamers decide on the best way to defeat a foe with weapons, magic spells or special powers.
An interactive map for exploring one-of-a-kind Hamnasya.
A dramatic soundtrack and incredible Retina display-optimized graphics that truly immerses gamers in another world.
Social sharing integration that lets gamers discuss, display and boast about their achievements and adventures via Twitter.
The ability for gamers to take notes for future reference, and add a bookmark so they can return to an earlier point in the gamebook (which is very handy for when facing a deadly foe!).
"Hamnasya - Askaryl's Grimoire's tagline is 'read a story, play a game, become a hero' and that's precisely the experience we've sought to create," commented Oliver Gavrois of Blue Flame Publishing Ltd. "And now that we've added amazing 3D dice and enhanced special effects, gamers have even more reasons to lose themselves in the epic saga, whether they're new visitors to Hamnasya, or have been there many times before."
Hamnasya - Askaryl's Grimoire, which is available in both English and French, is available for iPhone and iPad from the App Store https://itunes.apple.com/app/hamnasya-askaryls-grimoire/id583332420, and for Android devices from Google Play at https://play.google.com/store/apps/details?id=com.RithBFP.Hamnasya.
Additional app information, including screenshots and video demos, can be found at http://www.hamnasya.net.
For more information or media inquiries, contact Mark Johnson on behalf of Blue Flame Publishing Inc. at +1 408 757 0156 or press(at)appshout(dot)com.
About Blue Flame Publishing
Ltd Blue Flame Publishing Inc. is a newly created company by Olivier Gavrois, which aims to bring interactive adventure stories via Gamebooks and other related products to portable platforms.
Learn more at http://www.blueflamepublishing.net.