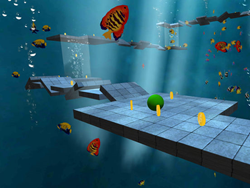 Cupertino, CA (PRWEB) August 10, 2016
Indie game developer Brian King is proud to announce the worldwide release of his debut arcade game Ballanced, a high-flying accelerometer controlled aerial puzzler that challenges players of all ages to navigate their ball through a series of treacherous levels full of obstacles and enemies, collecting coins along the way.
Ballanced takes inspiration from timeless classic arcade games, such as Marble Madness, and offers a fun mobile version to the new generation of players looking to experience the exciting gameplay on modern technology.
Offering gorgeous 3D-worlds and breathtaking backgrounds, gamers are presented with the following key features:

24 deviously difficult levels
Intuitive tilt-controls
72 reward-balls to unlock
Easy to learn yet hard to master
Precision 360 degree controls are provided via the accelerometer of the players device. Users can tilt forward to roll ahead to victory or tilt backwards just in time to save their ball from the plunge of death. Practice makes perfect and only by mastering hand and eye coordination will gamers defy gravity and reach the end. With its realistic physics and external factors such as wind, rain and enemies blocking your path, it takes an expert player to complete 24 increasingly difficult levels unlocking 72 reward-balls as they progress.
Ballanced is a contemporary take on the classic genre and promises hours of enjoyment as players tilt and turn to victory without tumbling off the edge.
A game trailer can be viewed at: https://www.youtube.com/watch?v=n-DyK_Vlezw
Ballanced is available now for iOS devices at: https://itunes.apple.com/app/ballanced/id1130629351
A dedicated version for Android devices is also available at: https://play.google.com/store/apps/details?id=com.brianjustinking.ballanced&hl=en
Ballanced is also coming soon to virtual reality, with a port of the realistic and addictive world expected to launch for Oculus Rift and HTC Vive at the end of August. Windows and Samsung Gear VR versions are also in development.
Journalists interested in further information, additional assets or an iOS® promo code for review are welcome to contact contact Mark Johnson on behalf of Brian King at +1 408 757 0156 or press (at)appshout(dot)com.
About Brian King
Located in Atlanta, GA, Brian King is a experienced developer with over 17 years experience building software and custom mobile applications.
Ballanced is his first indie game and is already proving popular with players.