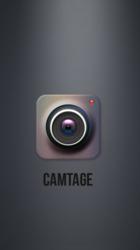 Taking photos with an iPhone is really only half the fun – the real excitement comes when users can edit and enhance them, and turn them into something really cool, special and unique
Cupertino, CA (PRWEB) April 03, 2013
Instagrammers and other photo enthusiasts who are on the lookout for amazing new ways to edit their photos in vintage mode, can now download the new app CamTage from developer Husain Ahmad Al-Battah.
CamTage features over 30 unique photo filters that make it simple for users to transport their favorite photos to another time and place. Plus, users can easily and quickly:

enhance their photos by adding over 20 textures: vintage, grunge, beauty and retro
import or export their photos via multiple resolution options: full, high, normal and low
enjoy "one-touch" sharing on Instagram, or any of their other favorite mobile photography networks
share their photos via their device's camera roll, Facebook or Twitter
tag the photos with #CamTage so that others can view their cool creations
"Taking photos with an iPhone is really only half the fun – the real excitement comes when users can edit and enhance them, and turn them into something really cool, special and unique," commented Husain Ahmad Al-Battah. "CamTage easily and quickly turns Instagrammers and other photo enthusiasts into amazing and talented photo editors. It's simply the best vintage and retro photo editing app for iPhone!"
CamTage, the innovative and easy-to-use new app that features amazing new ways for users to edit their photos in vintage mode, is available now in the App Store at https://itunes.apple.com/app/camtage-vintage-photo-editor/id623439239. The app is optimized for iPhone5, and compatible with iPad and iPod touch.
For more information or media inquiries, contact Mark Johnson on behalf of Husain Ahmad Al-Battah at +1 408 757 0156 or press(at)appshout(dot)com.
About Husain Ahmad Al-Battah
Based in Kuwait, Husain Ahmad Al-Battah is an experienced independent developer and designer of mobile applications. Specializing in utilities for photography & video, further titles are planned for later this year.
Learn more:
Twitter & Instagram @B6a7
CamTage Instagram @CamTage