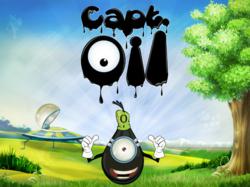 Our new direction at Game Cooks is Puzzle and Brain-oriented games
Cupertino, CA (PRWEB) April 23, 2013
Users must work their brains to save the Oiley in newly launched title for iOS and Android, called "Captain Oil", a new Puzzle game developed and published by Game Cooks. Captain Oil, a fictional superhero, comes with his spaceship and shoots special balls to save trapped Oileys in different worlds.
"The idea of the game came to us when we thought that Oil was the main problem in the world today!" Says Game Cooks CEO Lebnan Nader. "We worked on the Oil digging puzzle initially for the game then soon enough we shifted our development and ideas to something more fun, forgetting the world problems we wanted to highlight and focusing only on fun". The game is a 2D Puzzle type, full of feel-good music, physics, and challenges.
Captain Oil (the hero) travels different fictional worlds and challenges many factors to save his beloved Oileys (Mini cute one-eyed creatures) that are trapped in different mazes in the level. The game now contains 90 levels in three different worlds, with different difficulties and challenges.
But our hero's ride isn't easy, many factors will challenge him from fulfilling his tasks, such as wind fans, lasers, spikey blocks, bombs, but he can use other stuff for help such as wormholes, mutli-balls and jumpers.
"Our new direction at Game Cooks is Puzzle and Brain-oriented games," says Nader. "The fun factor is a very important element in the game, but if we combine it with brain exercise and strategy, that would be the ideal pitch for us"
The game is fully integrated with Game Centre, offering 90 challenging puzzles to crack and 20 achievements to finish. Expect Captain Oil for iOS (All) and Android on April 22nd.
About Game Cooks
Game Cooks is a Lebanese company based in Beirut, specialized in developing mobile games for iOS and Android.
Game Cooks already launched "Run for Peace" and "Déjà Vu" for iOS and Android and currently launching 2 new titles in April 2013.
Learn more: http://www.gamecooks.net