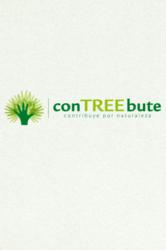 Medellin, Colombia (PRWEB) October 22, 2012
In order to help the planet, zoom in and sensitizing people on climate change, conTREEbute developed an iPhone application where people can calculate their carbon footprint for free and know the unintended impact to the environment. Download the App is the first step to start being part of the solution and route everyday actions to become more sustainable.
It's easy, just follow these 3 steps:
1. Calculate your Carbon Footprint: Understanding the problem is the first step in the solution.
2. Plant trees, real trees: Offset your carbon footprint and help colombian communities affected by violence.
3. Spread the message: Tell your friends and family what you have done and invite them to adopt a sustainable lifestyle.
Raise awareness and enable people to know their impact for free is possible with the new app, and from US2.99 begin to compensate their actions through the planting of new trees in Colombia, generating a positive impact on social, economic and environmental scopes. conTREEbute App is available in countries where the App Store is enabled, people in the United States, Spain, Australia, Brazil, Argentina, Chile, Mexico and others may start to give a hand to the planet. The impact will be global and will have local benefits with global reach, since climate change is an environmental issue that concerns us all.
Now giving a hand to the planet is possible, moreover with this new app people can interact with others within conTREEbute community, give away trees and multiply the message.
conTREEbute, the interactive and social application that allows users to offset their carbon footprint, plant real-life trees and take action against global warming is available now worldwide in the iTunes App Store for iPhone at: https://itunes.apple.com/app/contreebute/id514322259
About conTREEbute
conTREEbute develop sustainability strategies for individuals and companies in order to promote sustainable culture. We are experts in green marketing campaigns execution oriented to action in an attractive, vibrant and accesible way.
Learn more: http://www.contreebute.com