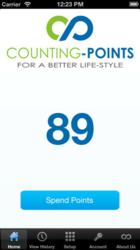 Cupertino, CA (PRWEB) May 27, 2013
Most people have something pleasurable they crave: alcohol, meat, sweets, and many more different habits and guilty pleasures. However, too much of a good thing can be a bad thing, so most people try to find a find a way of limiting consumption of whatever they enjoy too much of.
Radically denying oneself these pleasures rarely works. By making something forbidden, its value and the attention it attracts just increases. New Year's resolutions to quit smoking or abstain from alcohol usually do not last very long. People want to continue indulging in these bad habits, just less than they frequently do.
Counting Points helps limit one's guilty pleasure without a radical change in lifestyle. It forms new habits that last long-term with a points system that is easy and fun to use. Every day users receive fresh points that can be spent on any custom defined pleasure. The user defines the goals and price for each. Example: a user defines that consuming alcohol or eating meat costs two points each. If he receives one point a day, the user can eat meat and drink alcohol every second day. As users cannot spend more points than previously earned, there is a natural limit to consumption.
Experience shows that users feel much better about themselves. They can lead a healthier life while being fully in charge and still enjoy the things they love.
Counting Points is available on the Apple app store in a free and paid version. With the free version (Points Free), users can track a single goal. With the paid version (Points Pro) for USD 0.99 the number of trackable goals is four.
Counting Points Pro:
https://itunes.apple.com/app/points-pro/id648247875
Counting Points Free:
https://itunes.apple.com/app/points-free/id648257369
About Freecycle Germany UG (haftungsbeschränkt) & Co. KG
Freecycle Germany was founded in 2011 and is based in Königswinter, Germany. Its main purpose is directed to increasing the lifespan of products and thereby saving the natural resources of the planet. The website lifecycler.de and corresponding apps for iOS and Android provide a simple platform for giving away items to others.