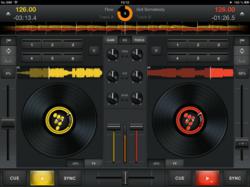 Cupertino, CA (PRWEB) June 10, 2013
Cross DJ is the first app to record and share mixes on SoundcloudRecord, edit and share a mix on Soundcloud straight from an iPhone or iPad. No computer needed, it's all built in the app.
Edit mixes directly
Browse and play the recordings from the app. Edit titles and descriptions. One can even make it more personal by uploading an artwork.
Direct share to SoundCloud
Log in to the Soundcloud account from within the app and upload the mix. Share the Soundcloud link on Facebook / Twitter, or make it private. If the user does not have a SoundCloud account, a Facebook connect module pops up, enabling to create one in seconds.
What else is new in this update?
Retrieve the mixes from a computer : plug the iDevice to the computer, open iTunes and go to the "Apps" tab. Hit "CrossDJ" to access the mix list.
Main Features (iPhone & iPad)

2 vinyl decks with realistic scratch
Ultra-accurate synchronization and ultra-fast beat matching
Complete DJ Mixer with 3-band EQ, volume faders, cross-fader and level meters
Parallel waveforms and track overview display + Beat grid editing
Effects + X/Y control pad for FX
Loops
Hot cues
Pitch fader and pitch bend
Direct access to your iTunes library + Sort tracks by BPM, title, artist, album or genre
Compatibility with most Bluetooth receivers for cable-free mixing
Multi-audio for USB compliant multichannel soundcard
External mixer audio routing mode (channel A and B are routed to different outputs)
Watch the video:
http://youtu.be/725hSQWiwog
Download Cross DJ for iPad 1.2 (new version)
https://itunes.apple.com/app/cross-dj/id509520532
Download Cross DJ for iPhone 1.2 (new version)
https://itunes.apple.com/app/cross-dj-for-iphone/id584824960
(Record only works on iPad 2/3/4 and iPhone 4S/5)
Prices
iPad : Cross DJ for iPad is $9.99 / 8.99 € / £6.99 - This update is free
iPhone : Cross DJ for iPhone is a fully-featured free app.
Sharing and recording (under 5 minutes) is available in the iPhone app without IAP.
To unlock the recording time an in-app upgrade is required.
In-app price for unlimited recording time is $0.99 / 0.89 € / £0.69
PLEASE CONTACT THE PRESS TEAM FOR AN APP STORE PROMO CODE *
Get in touch
delphine.queme(at)mixvibes(dot)com
http://www.facebook.com/mixvibes
http://www.mixvibes.com
About MixVibes
The company was founded in 2003 by Eric Guez in Paris, France. In 2003, the first version of the famous Digital Vinyl System software (MixVibes DVS) was released. The revolutionary systems enable to mix and scratch digital files with timecoded vinyl and CD with any ASIO soundcard.
Today, the company is still growing fast and concentrate all its precious time on audio research and development on MixVibes VFX CONTROL, a video solution to mix video like music, and CROSS, a cutting-edge cross platform, cross technology DJ software.
After 10 years of dedication and hard work, MixVibes products are now used by many DJs and musicians worldwide and we are still very happy to receive advice, feedback and ideas from you on your ideal future digital Djing!
Learn more: http://www.mixvibes.com