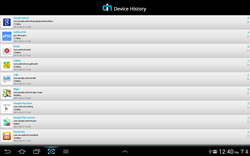 Device History makes capturing, tracking and analyzing device usage statistics easy and automatic.
Cupertino, CA (PRWEB) October 30, 2013
Everyone from vigilant employers to concerned parents, to efficiency-seeking individuals who want an easy way to capture comprehensive app and browser related usage information, can now download Device History from developer Colin Brock.
Designed for Android-enabled devices, Device History is an elegant and innovative app that captures all usage statistics for:

apps that have been previously accessed by the device
apps that are currently being accessed by the device and are in memory (and for how long)
web pages that have been accessed through the device's browser
Plus, users can easily adjust Device History's settings to capture either the time that an app was run/is running, how frequently an app was run/is running, or both.
"Keeping track of device usage statistics can be time consuming and confusing, and yet it's a very valuable effort – especially for parents who want to keep an eye on what their impressionable kids may be up to when they're online or offline," commented Colin Brock. "Device History has been carefully crafted to solve this problem, and make capturing, tracking and analyzing device usage statistics easy and automatic."
Added Colin Brock: "Device History is also ideal for employers who want to ensure that employees are following proper usage policies, and for individuals who want to be more efficient and organized with respect to using their device."
Device History, the elegant and innovative new app that lets Android users easily capture app and browser-related usage statistics, is available now on Google Play at https://play.google.com/store/apps/details?id=com.appweb.app_web_stats.
The app is suitable for users of all ages and requires Android 2.2 or higher.
For more information or media inquiries, contact Mark Johnson on behalf of Colin Brock at +1 408 757 0156 or press(at)appshout(dot)com.
About Colin Brock
Based in Queensland, Australia, Colin Brock is a mobile software developer and the creator of Device History.
Inspired by the need to monitor and protect his children's online use, as well as gain a broader understanding of phone and data usage, Device History provides this insight all within a single application.