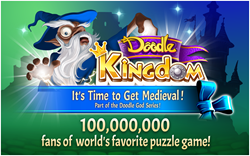 Doodle Kingdom marks the most ambitious game ever in the Doodle series.
San Francisco, CA (PRWEB) January 29, 2014
JoyBits LTD, a leading publisher and developer of interactive entertainment today announced that the element-combining all ages puzzle/world builder game, Doodle Kingdom™ is now available for iOS and Android devices. Doodle Kingdom™ has jumped to the top of the charts in the App Store in over 40 countries worldwide and is the latest installment to the award-winning Doodle series of games that has been downloaded by users over 126,000,000 million times in over 150 countries.
It's time to get medieval, as Doodle Kingdom™ unleashes powerful, never seen before new features to the puzzle/world builder game play that has made the Doodle series a global hit. For the first time ever in the series, players can quest as a character class picking from a heroic Knight, a mysterious Warlock or enchanting Dragon. Also for the first time, players can experience exhilarating arcade runner style combat in the new "My Hero" mode. Doodle fans worldwide can arm their Knight through successfully completing puzzles or via the in-game store and then battle a variety of monsters.
"Doodle Kingdom marks an exciting new chapter for the Doodle series and we are thrilled with achieving the #1 chart position in over 40 countries," said JoyBits CEO, Paul Baldwin. "Packed with new features, including the new runner style combat mode 'My Hero,' Doodle Kingdom delivers unique game play never seen before in a Doodle series game."
Players can create their own fantasy medieval world as you quest as Knights, Warlocks and Dragons and experience brain-teasing puzzles. Breed and raise four types of Dragons as you unlock monsters that your brave Knight will battle in the all new "My Hero" mode. Doodle Kingdom™, delivers classic Doodle series game play with new features that will keep you playing for months.
"Doodle Kingdom marks the most ambitious game ever in the Doodle series. The team has worked incredibly hard to deliver new game play features as well as a truly global experience that offers 13 language support," stated Anton Rybakov, JoyBits, Founder & Chairman.
Doodle Kingdom Features:
> Quest for the first time as a character class: Knights, Warlocks & Dragons
> New "Hero" Mode, arm your hero and play arcade style runner game
> Now available in 13 languages: English, Dutch, French, Spanish, Italian, Russian, Japanese, Chinese, Korean, Portuguese, Swedish and Polish.
> Build a Fantasy Kingdom starting from simple elements
> Hundreds of interesting, funny and thought-provoking quotes and sayings
If you love Doodle God, it's time to get Medieval with Doodle Kingdom!
For more information on Doodle Kingdom, please visit the official site at http://www.joybits.org.
For press inquiries, please contact us at: Press(at)joybits(dot)org.
About JoyBits LTD
With over 126 million downloads since its launch in July 2010, the award-winning 'Doodle' series of apps including: Doodle God, Doodle Kingdom, Doodle Devil and Doodle Farm, have become one of the world's most beloved puzzle franchises for gamers of all ages. Combining classic mix-and-match game play with clever world building mechanics, the Doodle series puts the power of creation in gamer's hands. The Doodle series of apps are some of the highest rated apps available today, and combined, have tallied over 600 years of game play enjoyed by fans in over 150 countries. The Doodle series is available for iOS and Android devices, in addition to Windows phones, Windows8, BlackBerry10 and numerous other platforms. JoyBits is headquartered in London, England with an office in San Francisco, California.