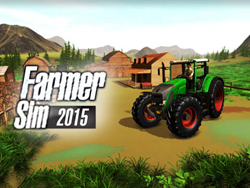 Cupertino, CA (PRWEB) July 23, 2015
People around the world who've always wondered what life would be like if they traded in their car for a tractor and their business suit for a pair of overalls, can now get a taste of agricultural life by downloading the brilliant new no-cost farming simulator app: Farmer Sim 2015.
Created by Ovilex Soft -- the company behind some of the world's most popular and acclaimed driving simulator apps, including Train Driver 15, Bus Simulator 2015, Motorcycle Driving School and several others – Farmer Sim 2015 is a fun and challenging app that allows users to experience life as a real farmer.
To succeed, users must plow, sow and harvest their fields, and sell a variety of crops in the marketplace to earn money for new equipment and machinery. They can also buy and raise animals and purchase new fields, as they enhance the value of their farm --just like a real farmer. Plus, they can play for fun, or they can try the app's Open-World career mode to really see if they have what it takes to become a successful farmer. They can also challenge their friends by sharing (or boasting) statistics and achievements.
And speaking of realism, as would be expected from the driving simulation experts at Ovilex Soft, Farmer Sim 2015 features incredibly lifelike – and frankly, incredibly cool – vehicles, including tractors, combines, plows, harvesters, seeders, trailers and more. All of these vehicles feature incredibly responsive steering wheels, and realistic buttons and tilting controls. However, users who aren't in a driving mood and would rather focus on cultivating crops and raising animals can activate to handy auto driving option.
Other Farmer Sim 2015 features that reflect the app's meticulous attention-to-detail include stunning 3D graphics, a convincing day-night cycle, as well as both USA and European maps.
"Farming is a very interesting and at times quite difficult profession that most people will never be able to pursue or experience," commented Marusac Alexandru of Ovilex Soft. "But with Farmer Sim 2015, anyone can get a sense of what it's really like to cultivate crops, raise animals, and truly earn a living from the land. It's fun, challenging and as with all of our apps, the graphics are incredible and very lifelike!"
Farmer Sim 2015, the new no-cost app that features realistic farm vehicles, 3D graphics, and a career mode that lets users experience life as a real farmer, is available now for iOS devices from the App Store at https://itunes.apple.com/us/app/farmer-sim-2015/id1000337579, and for Android devices from Google Play at https://play.google.com/store/apps/details?id=com.ovilex.farmersim2015.
Additional app information, including screenshots and a video trailer, is available at http://apps.appshout.com/farmer-sim-2015/.
For all other information or media inquiries, contact Mark Johnson on behalf of Ovilex Soft at +1 408 757 0156 or press (at)appshout(dot)com.
About Ovilex Soft
Ovilex Soft is a new games company that focuses on making the best simulators on Google Play and the App Store. With a variety of planned future projects and continuous attention to quality control, the company will became an important developer within the simulator/racing game market.
Olivex Soft also helps ensure the quality of their products by keeping contact directly with their large audience of games players via the company's site forum at: http://www.ovilex.com/forum/