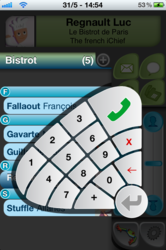 FroggyDial is perfect for busy people who want quick, on-the-go access to their device's address book.
Cupertino, CA (PRWEB) September 06, 2012
iPhone users who want a faster and easier way to call their address book contacts can now download FroggyDial: the innovative new phone dialling app from developer Luc Regnault.
Designed for perfect laterality – which means it's perfect for either right or left- handers -- FroggyDial lets users connect with contacts in a matter of seconds, and all with one hand or even one thumb. They can also easily find contacts via alphabetical or numerical search, and create or edit several group types, including manual group, smart group, and favorite group. An automatic recent group is also available.
Plus, FroggyDial features a highly customizable interface that's simple to navigate, and users who prefer digital communication can email and text their contacts whenever they wish.
"FroggyDial is perfect for busy people who want quick, on-the-go access to their device's address book," commented Luc Regnault. "Sometimes, it's neither convenient nor desirable to drop what you're doing and make a call, search for a contact, browse a group, or send a text or email. With FroggyDial, people can do everything with one hand. It's a whole new level of convenience and functionality that makes a great device even better."
FroggyDial, the new one-hand phone dialing app, is designed for iPhone 3GS, 4 and 4S. It's also valuable tool for iPad users who want an easy and rapid way to organize groups and search contacts. The app can be downloaded now from the iTunes store at http://itunes.apple.com/app/froggydial-one-hand-phone/id530894380. It's available in both English and French. A full user guide is provided.
For more information or media inquiries, contact Mark Johnson of appshout! on behalf of Luc Regnault at +1 408 757 0156 or press (at) appshout (dot) com.
About Luc Regnault
Developer Luc Regnault, who has been a software industry expert since 1991 and an electronic industry expert since 1978, is the founder of Design Patterns Software (DPS).
The main purpose of DPS is to develop software for iPhone, iPad and MacOS. DPS also consultants with clients on software creation, with a particular emphasis in the 2D graphic's field. Luc Regnault is one of Europe's most renowned specialists in color management and PDF file format content, and has more than two decades of knowledge in MacOS development.
Learn more at http://regnault.luc.free.fr/