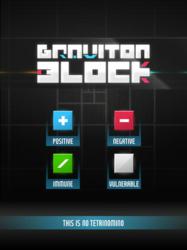 We think our users around the world will be very impressed with our efforts!
Cupertino, CA (PRWEB) April 27, 2013
Fans of Neotko Studio SL's innovative, exciting, challenging and refreshingly unique gravimetric field-based no-cost puzzle app Graviton Block have a reason to celebrate, now that they can download the new and improved version 1.2.
Vastly different than apps developed in the "tetrinomino" genre, Graviton Block does not involve piece rotation or the need to make lines. Rather, it challenges users to deftly use a laser guide to drag individual particles from a capsule, and create 3x3 blocks on a grid, which then disappear.
To be successful, users have to skillfully combine four different kinds of particles: positive, negative, zero matter and vulnerable (which are affected by both positive and negative areas), in order to prevent any of the particles from rising to the launch area. They also have to remain constantly mindful of gravitons and the associated gravimetric field, because when one 3x3 block disappears, the remaining particles loosen, thereby creating new cracks and gaps that must be filled.
In addition to offering three fun game modes—Easy, Alpha and Omega—Graviton Block features:

A save option that lets users pause and resume anytime they wish (new in version 1.2).
Refined gameplay that makes it easier to unlock the app's harder Alpha and Omega modes (new in version 1.2).
Faster speeds as the levels increase, which force users "think faster" and have even more fun (new in version 1.2).
Simple and intuitive drag & drop gameplay.
Increasingly difficult levels that challenge users to focus even more to be successful.
The ability to mix positive, negative and zero matter particles and create huge chain reactions to keep the grid empty.
The opportunity to achieve score multipliers by creating 3x3 blocks.
"We're pleased to state that version 1.2 of Graviton Block contains some major improvements to everything from functionality to gameplay," commented Sebastián Suchowolski Morelli of Neotko Studio SL. "We think our users around the world will be very impressed with our efforts!"
Graviton Block, the unique gravimetric field-based puzzle app that is vastly different than apps developed in the "tetrinomino" genre, is available in the App Store at https://itunes.apple.com/app/graviton-block/id584137563.
The app is available at no cost, optimized for iPhone 5, and compatible with iPad and iPod touch. More information and a video demo are available at http://www.neotko.com/gravitonblock.
For more information or media inquiries, contact Mark Johnson on behalf of Neotko Studios SL at +1 408 757 0156 or press(at)appshout(dot)com.
About Neotko Studios SL
Neotko Studios is a self-publishing indie studio based in Madrid, Spain that is led by the imagination and efforts of Sebastián Suchowolski Morelli. As a dedicated gamer, in 1998 Sebastián combined his talents with his brother Gabriel Suchowolski (currently the CEO of Estudio Cocoe) to create Onez, one of the first online video game magazines.
Learn more at http://www.neotko.com.