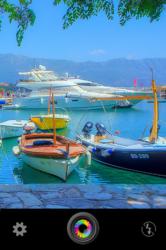 HDR+ Camera is the elegantly efficient way to overcome the frustrating problem faced by iPhone and iPad users, which is that their device's native camera cannot vividly capture real-life scenes due to ranging light intensity
Cupertino, CA (PRWEB) October 16, 2012
iPhone and iPad users who want to easily take professional quality, ghost-free high dynamic range (HDR) images on their device and join the ranks of professional photographers can now download the groundbreaking new app HDR+ Camera.
Designed by the professional HDR software experts at Almalence, HDR+ Camera allows users to capture vivid details and rich colors in both bright and dark areas, and then merge them into a single, flawless photo with just one touch.
In addition, HDR+ Camera compensates for shaky hands and automatically detects moving objects in order to prevent ghosting. The app's rapid algorithms also ensure lightning-fast processing times that rival professional-grade equipment.
"HDR+ Camera is the elegantly efficient way to overcome the frustrating problem faced by iPhone and iPad users, which is that their device's native camera cannot vividly capture real-life scenes due to ranging light intensity," commented Eugene Panich of Almalence. "As a result, bright areas look washed-out, while shadowy areas are darkened and devoid of details. But now, with HDR+ Camera installed on their device, they can apply the same HDR photography approach used by professional photographers, and effortlessly capture real-life images with truly vivid color and amazingly rich detail – and all with just one touch!"
HDR+ Camera, the groundbreaking new app that lets iPhone and iPad users join the ranks of professional photographers and create high quality, ghost-free HDR images, is available now on iTunes at http://itunes.apple.com/us/app/hdr+-camera/id541004777.
Current and prospective users are also invited to visit the HDR+ Camera Facebook page for the latest news, updates and more at http://www.facebook.com/mobilehdr. Fans can also share their stunning HDR photos on Flickr at flickr.com/groups/1820156@N20.
For more information or media inquiries, contact Mark Johnson of appshout! on behalf of Almalence at +1 408 757 0156 or press(at)appshout(dot)com.
About Almalence
Founded in 2005 and based in the USA and Republic of Korea Almalence is focused on developing cutting-edge imaging processing technologies.
Creating both end-user products and solutions for camera and mobile OEMs, Almalence's mission is to let photographers overcome the limits of their cameras and get image quality and features never available before, including the provision of mobile imaging quality and features similar to DSC/DSLR.