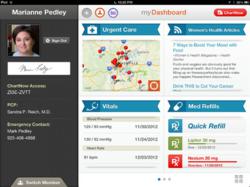 Maintaining a consumer's record in our cloud affords us a lot of advantages
Cupertino, CA (PRWEB) February 06, 2013
As the healthcare industry grows and changes, patients seek more control of their personal health information. As a result, keeping tabs on the medical history of individuals and families is becoming increasingly difficult.
Healthspek solves this.
This week, Healthspek offers the best mobile personal health record available. This complete iPad tool can be used to track, collect and safely disseminate personal healthcare information. Users can securely manage their medical records, immunizations, conditions, providers and insurance, all with a swipe of the finger. For added convenience, mothers, fathers and guardians can include their family members under the same account.
Subscribers get 24/7 access to their entire health record from any browser or iPad. And, importantly, so will their selected doctor, emergency room, specialist, or clinic with Internet access. What's more, with the handy Carry Card included, a user's critical health information can be with him or her at all times—even if the iPad is not.
Healthspek's app comprises:
> myDashboard is a customizable home page with "Speks" to help each family member manage his or her health and wellness; such as "Med Refills," "Health Tips," "Urgent Care," etc.
> myProfile allows the user to record doctors, insurance, emergency contacts, a personal picture and even a signature.
> myRecords is the medical chart of Healthspek. SecKons include condiKons, medicaKons, labs, vitals, imaging, allergies, history, and more.
> Coming soon is myVisits, where users can track individual appointments.
Download Healthspek from Apple's App Store at: https://itunes.apple.com/app/healthspek/id576488481
Healthspek COO Bruce LeFew contends that security is the backbone of this app.
"Maintaining a consumer's record in our cloud affords us a lot of advantages," LeFew says. "For example, through a secure code that only the consumer can share, any doctor around the world can access a patient's complete chart by browsing to http://www.chartnow.com. With this feature, you can also securely fax (or email) records and medication refills. In addition, our cloud server receives electronic charts from doctors — the components are automatically inserted into the correct sections of the consumer's record [available in version 1.1]."
Working with Healthspek to create the iPad app is rabble+rouser, an award-winning app developer located in Denver, Colo. http://www.rabbleandrouser.com
Ben Brough, Healthspek's Manager of Development, says:
"One thing that was very important to us when we embarked on developing this app was the impression it leaves with our users. Beauty and ease of use were very important to us. After a painstaking selection process we chose rabble+rouser as our design and programming talent. I'll let the app speak for itself."
Portability with secure universal access is one of the hallmarks of Healthspek.
"As a freebie, we mail a card containing cri;cal emergency data and, more importantly, the 8-digit ChartNow code for access to the patient's chart on any browser" said Randy Farr, Healthspek's CEO.
Contact: Randy Farr, randyfarr (at) healthspek (dot) com, 615-294-3837 Brentwood, TN http://www.healthspek.com