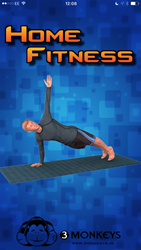 Cupertino, CA (PRWEB) March 30, 2017
Millions of people want or need to build lean muscle, improve cardiovascular health, achieve optimal BMI, and enhance their overall fitness level. Yet they don't move ahead and achieve these life-changing – and in some cases, life-saving – goals because they aren't interested in heading to the gym several times a week, and don't want to spend a small fortune on exercise and fitness equipment. Fortunately, they can now overcome these obstacles and get on track for better health by downloading the innovative new iOS app Home Fitness – Bodyweight Training Challenge.
Available for download at no cost and designed by 3Monkeys.io Inc., Home Fitness is essentially three fitness-focus apps rolled-up into one intuitive and integrated solution: a trainer, a manager, and a motivator.
TRAINER: Home Fitness features multiple workouts that are categorized by beginner, intermediate, and advanced. Users simply choose the workout that appeals to their level and interest (with names like "The Grid" and "6-Minute Abs"). They can also learn about each workout's degree of intensity (on a scale of 1-5), list of included exercises (e.g. push-ups, climbers, high knees, punches, etc.), and duration.
Regardless of which option they choose, all workouts consist of calisthenics that requires no equipment, and are extremely efficient given that multiple muscles are involved in every movement, including the all-important core muscles that play a pivotal role in overall health and fitness levels. Users can also view and practice individual exercises from the app's large and constantly-growing database.
MANAGER: On the back-end, Home Fitness features a built-in workout manager that lets users monitor, track and analyze their performance and improvement. For example, users can see how much time they've spent exercising, and whether their level of intensity over time has fallen, risen, or remained the same. Notably, Home Fitness' exceptional design and UX displays all of this information at-a-glance, which is a welcome change from many other apps that force users to browse through multiple screens to get the workout data they want.
MOTIVATOR: Since getting fit should be fun and inspiring, Home Fitness also includes a variety of motivational features and tools, including the ability to earn awards after completing workouts and share them with friends via Facebook, Twitter, Email or SMS. Users can also take selfies and compare their improvements over time with the app's unique timeline window.
"The bodyweight training exercises included in Home Fitness go beyond just improving tone. Because they utilize a range of strategic motor movements -- such as running in place, pushing, punching, grasping and so on – they create functional muscles, and improve balance and control," commented Mark Briscoe of 3Monkeys.io Inc. "And since the app features multiple workout levels, it's ideal for beginners who are just starting to improve the fitness, to high-performance athletes who want to take their training to the next level."
Home Fitness – Bodyweight Training Challenge is available now from the App Store at https://itunes.apple.com/app/home-fitness-bodyweight-training-challenge/id1179713052. There is no cost to download the app.
Additional app details, including a trailer video, is available at http://www.homefitness.io.
For all other information including media inquiries, contact Mark Johnson on behalf of
3Monkeys.io Inc.at +1 408 757 0156 or press (at)appshout(dot)com.
About 3Monkeys.io Inc.
We are 3Monkeys, a small but motivated company specializing in mobile app development. We believe passionately in great functional apps that are easy to use, which is why we commit ourselves to giving you the best of both. If you're looking for something new, you're in the right place. We strive to be industrious and innovative, offering our customers something they want, putting their desires at the top of our priority list.
View the full Press Release in the appshout! Newsroom at: http://appshout.d.pr/oFrL