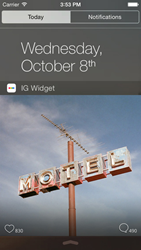 Cupertino, CA (PRWEB) December 04, 2014
Instagram users are all to aware of the temptation to check the latest comments and likes after each post, frequently opening the app to read and delete notifications to see who has liked and left comments.
"IGWidget : Widget For Instagram" provides a streamlined and integrated widget that allows iPhone and iPad users to likes and comments directly within an iOS Notification Center widget. With a beautifully designed user interface, IGWidget allows users to simply open the Today section of Notification Center to:
> View the latest post made on Instagram
> See the number of likes and comments in real-time
> View a list of users who have liked the post
> View all comments and users
IGWidget automatically updates every time the Today section of Notification Center is opened, showing the latest post interactions in real-time.
IGWidget is designed and developed by Appersian Dev Group, and it's available in App Store at: https://itunes.apple.com/app/igwidget-widget-for-instagram/id927425381
Requires iOS 8.0 or later.Compatible with iPhone, iPad, and iPod touch. This app is optimized for iPhone 5.
For more information please visit http://appersian.net or contact Appersian
info[at]appersian.net.