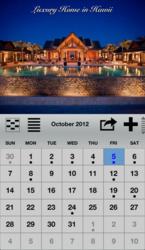 While many people love their iPhone, iPad and iPod touch, they aren't as thrilled with the limitations of their device's calendar, particularly when it comes to working seamlessly with other sources such as Google and Yahoo
Cupertino, CA (PRWEB) October 26, 2012
iPhone, iPad and iPod touch users who wish that they could get more out of their device's calendar can now download the new app ImagesCal, and enjoy a whole new level of extreme versatility, functionality and ease.
Designed by 3 Lights Software, ImagesCal empowers users to add, view and edit calendar entries from a variety of sources, including Google, Yahoo, Exchange, Caldav, and even local iOS calendars. Plus, they can easily navigate views (month, week, day list, agenda list, and transparent preview) by simply swiping their screen, or choosing a date from the date picker.
Other ImagesCal features that will help users get much more from their device's calendar include the ability to:

generate a new calendar from a variety of choices and styles
create a perpetual calendar for any year – past, present or future
search and automatically download numerous free photos from the web
add and title photos from their photo album
create beautiful high resolution custom wall calendars
send invitations quickly and easily
email a .pdf calendar to any contact
print calendars (day list, agenda list, events in week/month/year) to any Airprint compatible printer
"While many people love their iPhone, iPad and iPod touch, they aren't as thrilled with the limitations of their device's calendar, particularly when it comes to working seamlessly with other sources such as Google and Yahoo," commented Gus of 3 Lights Software. "And that's why we created ImagesCal, so that users worldwide could experience and enjoy a functional, easy-to-use calendar that gives them so much more! Plus, the ability to add high resolution images and automatically search the web for photos and images truly reinvents what a device calendar can, and should, do."
People who want add extreme versatility, functionality and ease to their device's calendar can download ImagesCal from iTunes at https://itunes.apple.com/app/imagescal/id504184954. The app requires iOS 5.0 or later, and is optimized for iPhone 5.
For more information or media inquiries, contact Mark Johnson of appshout! on behalf of 3 Lights Software at +1 408 757 0156 or press(at)appshout(dot)com.
About 3 Lights Software
At 3 Lights Software, our mission is to deliver innovative business and personal utility apps for the mobile platform, which are both versatile and fun to use. Our current platform of development is the popular Apple iOS device family which includes the iPhone, iPod Touch and iPad. Our development team takes an every day need or function and tests it out thoroughly in the field of its use. By doing so, we work out any errors and custom-make the app for its intended use.
Our apps take months and years to develop. We use absolute care and do our best to incorporate Apple's latest iOS technology, such as multitasking and background running. We also work with other Apple innovative features, such as Siri, so that we can utilize the latest in speech recognition technology.
Learn more at http://www.3lightssoftware.com/.