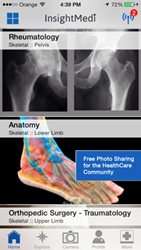 Cupertino, CA (PRWEB) April 05, 2014
HealthMedi Apps, S.L. are proud to announce the launch of InsightMedi, a network for healthcare community to share enhanced content images in a professional environment, respectful with patients' privacy and carefully classified.
It is an image-sharing app created by and for Professional Healthcare Providers. This means full respect for patients' privacy (HIPPA compliant) and carefully classified images. InsightMedi offers images filtered by users' selected interests, but it also allows them to look for any specific subject. Users may enhance the content of an image by adding searchable tags or links to videos, websites, scientific papers, etc. InsightMedi is also a social network where you can look for other users, follow or be followed by them.
InsightMedi is a full featured social network, requires iOS 7.0 and it has been optimized for the iPhone. The app is localized in English, Spanish, and Catalán.
Please visit http://www.insightmedi.com for more information, including videos and screenshots of the app. InsightMedi has been built by HealthMedi S.L., a medical apps development company.
InsightMedi - Professional Image Network for Physicians and the Healthcare Community requires iOS 7.0 or later. Compatible with iPhone, iPad, and iPod touch. This app is optimized for iPhone 5.
About InsightMedi / HealthMedi Apps, S.L.
Based in Navarra, Spain and founded by current CEO Dr. Gonzalo Mora, HealthMedi Apps, S.L. consists of a small team of Medical and Computer Science professionals with the aim to implement leading medical focused applications.
With a primary focus on education, their premiere product InsightMedi provides continued medical education through visual learning and medical images, with patient privacy, reliability and verified information.
Learn more: http://www.insightmedi.org.