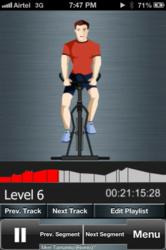 Spinning is an incredibly fun and energizing workout that burns calories and builds lean muscle mass
Cupertino, CA (PRWEB) January 29, 2013
Spin enthusiasts who are fed up with expensive gyms, long line-ups for an available bike, and inconveniently-scheduled spin classes, can now download the innovative new app iSpin and access their very own fun, exciting and personalized on-the-go-spin trainer.
Designed by Nerd Entertainment Pty Ltd., iSpin is features two instructors: one easy, and one challenging. Users simply add their own music, and instantly create a fun and exciting spin class – whether they're in their home gym, out for a ride, on vacation, or anywhere else.
Plus, users who want to add even more fun and variety to their iSpin experience can visit the in-app store and purchase new and exciting spin routines from world class instructors. More routines will be added on an ongoing basis.
"Spinning is an incredibly fun and energizing workout that burns calories and builds lean muscle mass," commented Anthony Salamon of Nerd Entertainment Pty Ltd. "However, trying to find a bike in a crowded gym, or being forced to drive all the way to attend a weekly spin class, is miserable and can even convince some people to stop exercising altogether. iSpin is the solution to that! This great app pushes people to spin harder, go further, and be their best – all while having fun wherever they are, and whenever they want!"
iSpin, the personalized on-demand spin trainer that's the ideal alternative to crowded, expensive and inconveniently-scheduled spin classes, is available now in the App Store at https://itunes.apple.com/app/ispin/id571649813. The app is compatible with iPhone, iPad and iPod touch.
About Nerd Entertainment Pty Ltd.
Nerd Entertainment was founded in 2007 as a premier cross platform multimedia company by film and television producer Anthony Salamon. Their goal is to create a space that like minded content creators could come to, to create in any form or medium; be it film, TV, web, podcast or anything else.
In 2011 Nerd Entertainment co-produced its first feature titled "Birth of a Warrior" and since then has had involvement as Associate Producer and Development Producer on numerous projects in Australia and abroad.
Learn more: http://www.nerdentertainment.com