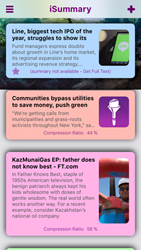 Cupertino, CA (PRWEB) August 10, 2016
Many news apps leave users dissatisfied as it is difficult and time consuming to browse multiple stories, and many news articles are filled with filler content, making it necessary to read the full article to understand the concept. iSummary is developed to change this, making it possible for users to easily create condensed summaries from their favorite news outlets and scanned documents. "Information overload is our reality," said Sam Aljamal, Intelligent Apps CEO. "With so much information bombarding our minds on a daily basis, it can cause us to delay making decisions, or even make the wrong decisions. iSummary can save us time and effort and allows us to understand the main concept of the article in a few sentences".
iSummary is a first of its kind solution and we have ensured it is the only one users need. The easy-to-use app automatically locates the most relevant facts in a story and generates short summaries that help the reader quickly grasp the main points from a document. To read the full story, readers can then tap on the "Get Full Text" button to get a clean, easy-to-view layout of the original article.
Beta users have already declared the new app as a great convenience: "iSummary is extraordinarily convenient for digesting brief, accurate summaries," said Judy M. K.
iSummary enables users to:

Save news articles from almost any app on their mobile devices including: web browsers, Facebook, Twitter, Medium, etc.
Read summaries through the app both on and offline.
Read full text in a clean format. The app removes all clutter and saves the content of web pages into iOS-optimized formatting.
Convert scanned images into text and summarize!
Share summaries with friends through social websites, SMS, and email.
Easily navigate through innovative design and gestures.
Read articles confidentially. Text summarization is in-app with no third party interference.
Device Requirements:

iPhone, iPad, and iPod touch device
Requires iOS 9.0 or later
Universal Application
90 MB storage
Pricing and Availability:
iSummary 1.0 is $2.99 USD (or equivalent amount in other currencies) and available worldwide exclusively through the App Store in the Productivity category at: http://itunes.apple.com/app/id1101402609
About Intelligent Apps:
Intelligent Apps is a North Carolina based software design firm dedicated to delivering innovative technology solutions for solving everyday problems. Driven by the passion of constantly inventing new technology, the company offers excellent, high quality technology products to meet the needs of everyday problems.